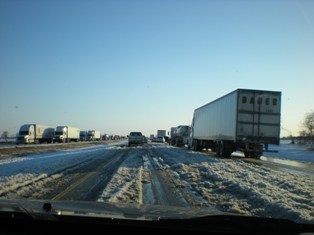 That's a picture from I-55 in northern Arkansas. Terrible place. Seriously. Their Department of Transportation has got to be the most inept in the nation. See the clear skies?! It snowed the DAY BEFORE and there was ice all over the place. It took us over an hour to go 15-20 miles toward Memphis.
There are more pics…feel free to check those out, of course…
Either way, that was on the way down to Hot Springs, AR. Brooke decided she wanted to go on a little trip, just to get away for a little bit. It's a relatively easy drive (minus the aforementioned DOT from Arkansas), and a place neither of us had ever been to.
Anyway, it was a pretty good trip! Brooke made reservations at Hilltop Manor, a bed-and-breakfast right by the national park. The weather was pretty awesome, for the most part, so we spent Monday walking around the town, went up to the top of the mountain and went up in the observation tower, then walked along Bath House Row (and toured an old bath house maintained by the National Park Service), and otherwise chilled for the rest of the day in front of a fire place, reading and gaming (on the DS, of course :-)).
The trip back was less eventful than the one down, so that was a big plus. In any event, I'm glad to be back and catch up on all the TV shows we didn't get to last week. And, maybe even get some science done tomorrow…