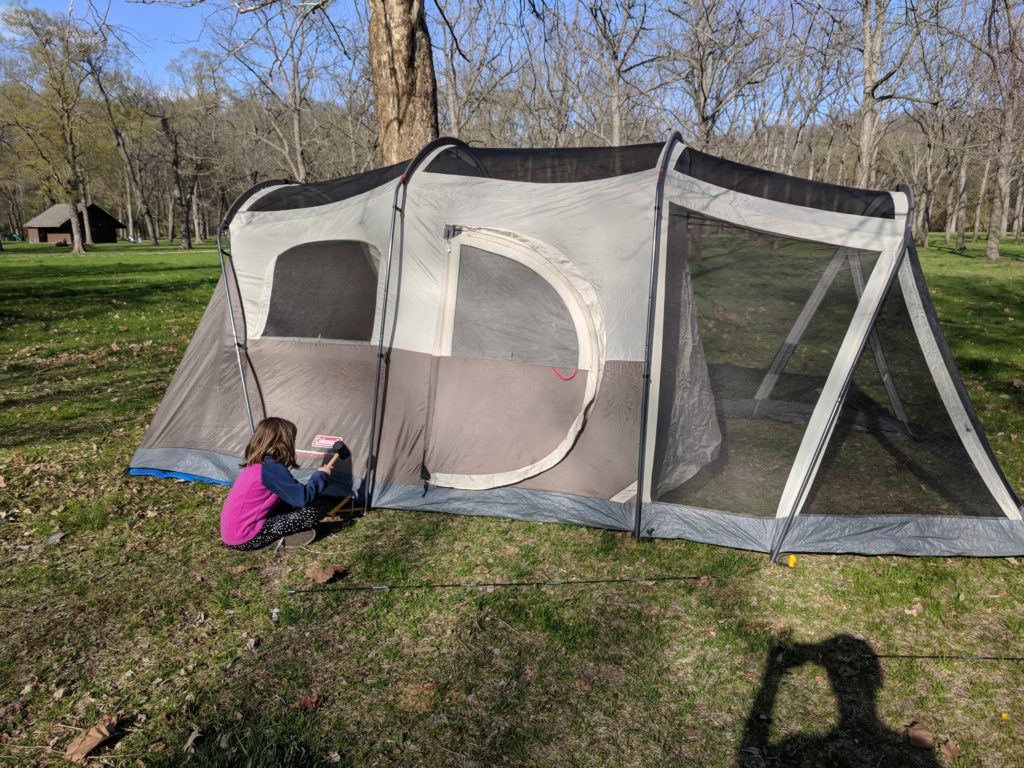 Brooke wanted to get a test run in on the tent and camping gear before we head to the Grand Canyon later this summer.  The logistics of this trip were somewhat…"rushed"…as it was the weekend before Finals and we'd been busy for the weekends running up to it.
Meg and I went before Brooke was off work so we could get the tent set up.  The site itself was very flat (as all the sites at Van Meter are), though we had to move some leaves and sticks around.  It was pretty early in the season still on April 27th, so few people had camped in the area in 2018 before we got there.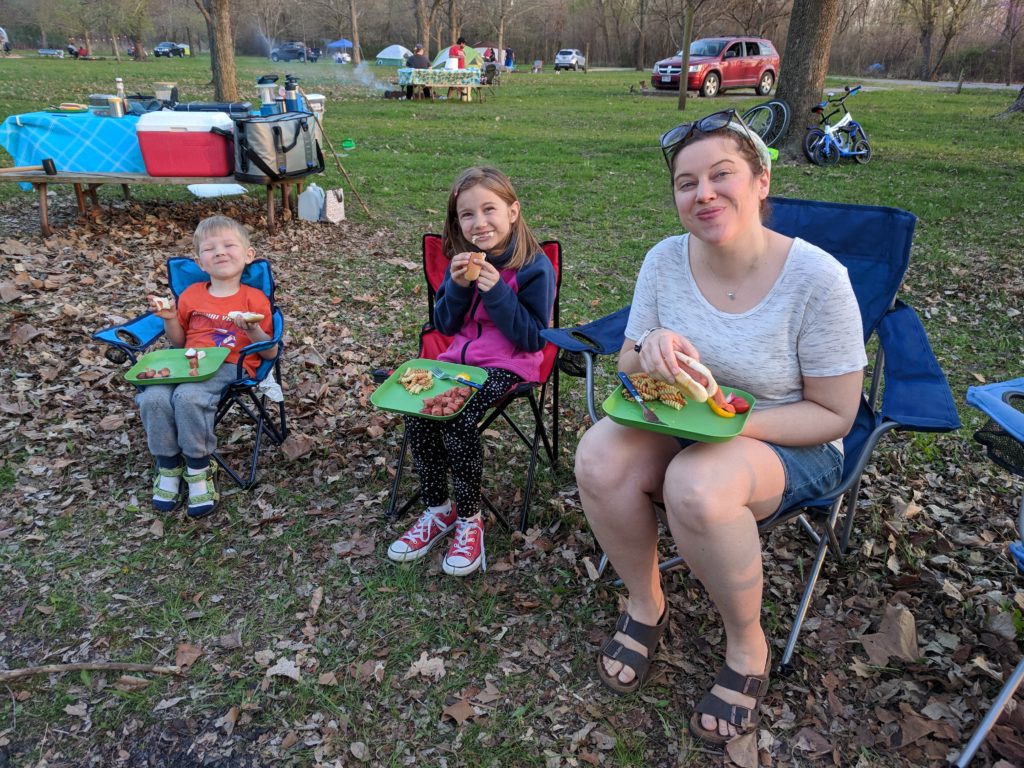 The weather was set to be great and it largely was.  It was pretty breezy Friday evening, but we were still able to get the fire going and roast some hot dogs.  We didn't stay up all that late, as the temperatures were falling and the wind was blowing around the smoke all annoying-like…
The temperatures dropped to ~42 F overnight and, while the kids slept just fine, Brooke and I were not as fortunate.  I was mostly warm, but Brooke got a bit chilly (and she subsequently bought a new sleeping bag for the Grand Canyon…good thing we went on a test run, yes?).
We got up, had some breakfast, and then the kids played for a little while at the playground.  The nice thing about Van Meter is that you can see the playground from the campsite (just about all of the sites, really), so the kids could go back and forth without us having to worry (much) about their safety.  There were many other kids around that weekend, some of which Meg and Calvin recognized, others of which they met for the weekend and ran around with for a time.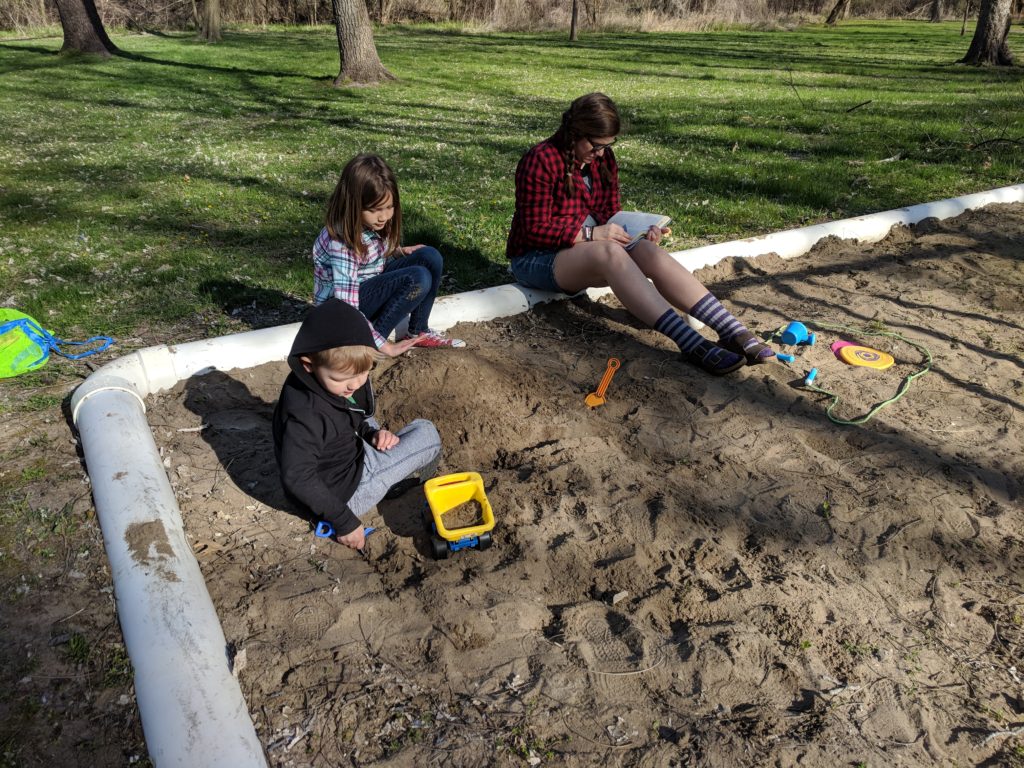 We didn't have extensive plans for Saturday except for a hike around Lake Wooldridge.  We've gone down to the lake before, but we'd never hiked around the entire thing because Calvin is the slowest person on the planet.  It's a 2 mile hike and, this time of year, the vegetation and insects are more limited, making it far more pleasant than usual.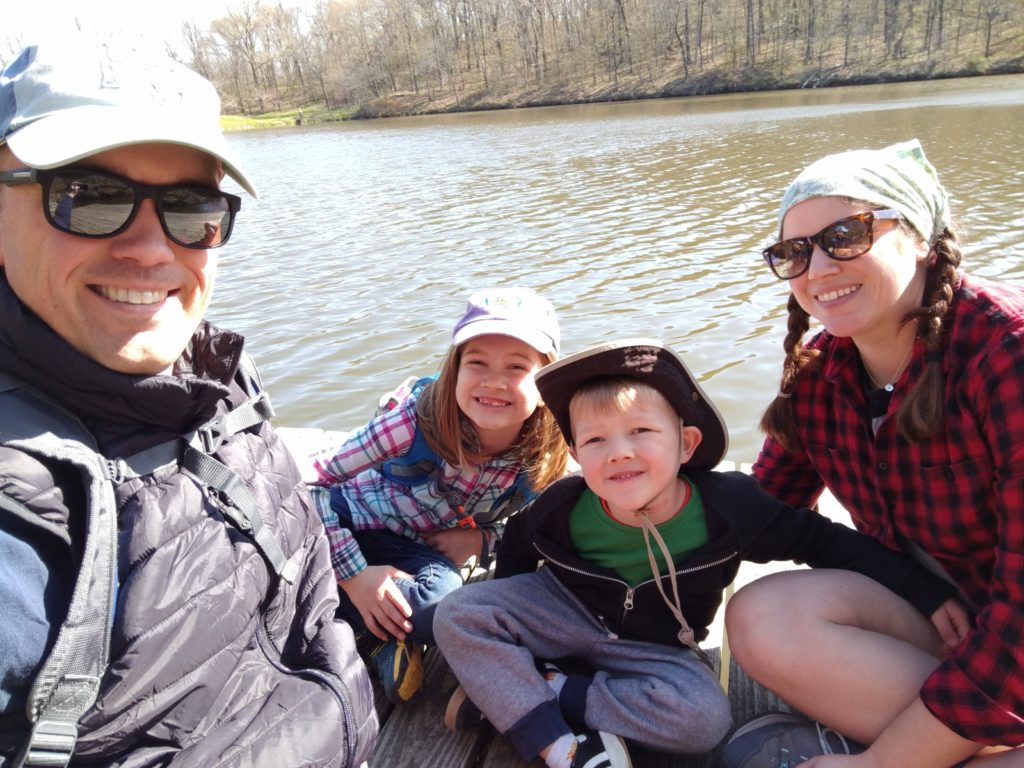 Calvin started out alright, but Brooke had to carry him on and off for periods of time.  In all honesty, he did a lot better than usual for this length of a hike, but it still took us well over an hour to go the full two miles.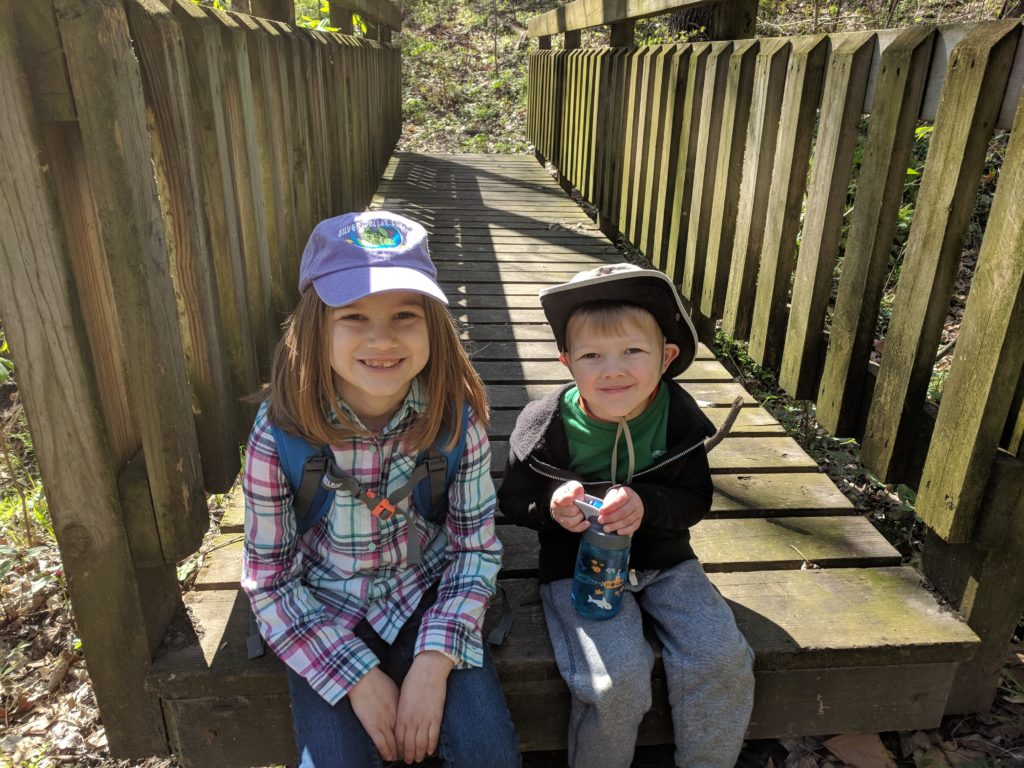 The weather was absolutely gorgeous that day!  The hike killed a solid amount of time that morning, but we still made it back to have lunch and rest for a little bit.  The kids went back over to the playground while I attempted to take a nap (it was a bit loud…and bright…so yeah, didn't get very far).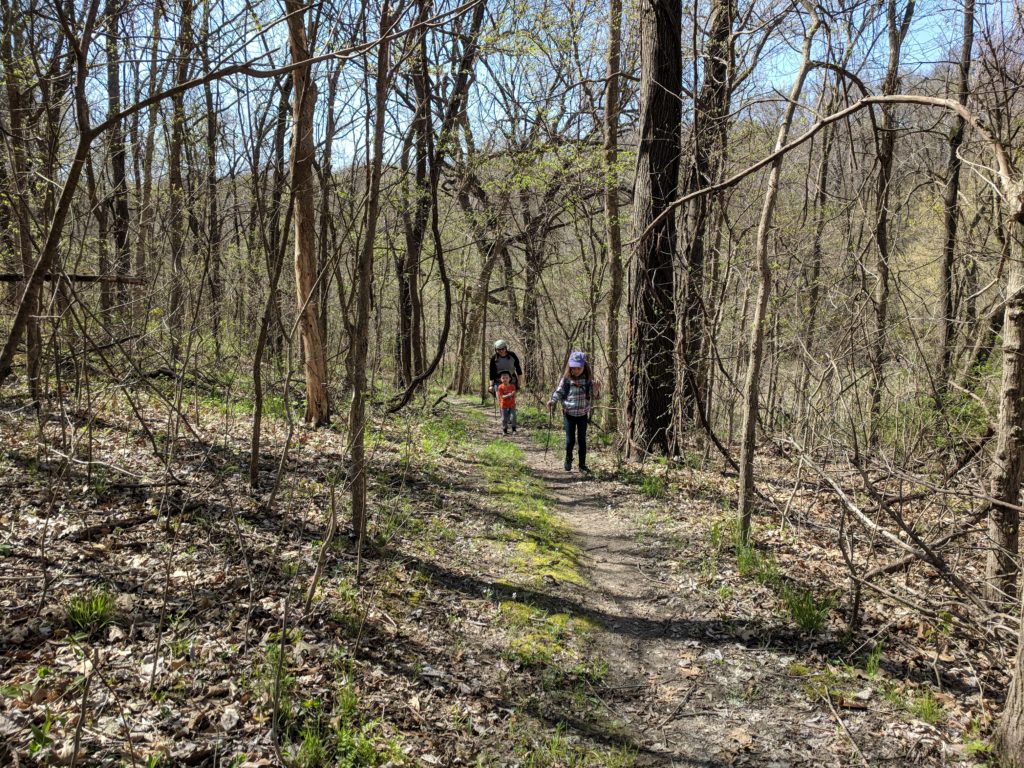 Early that afternoon, we went by Van Meter's Missouri's American Indian Cultural Center for a presentation on the Sun conducted by a gentleman from the astronomy club in Columbia.  It was a bit above the kids' heads, but after the slide show, we went outside to use a few telescopes with filters to look at the Sun.  Again, I'm not completely sure they got much out of it, but I think they thought it was at least something special to do!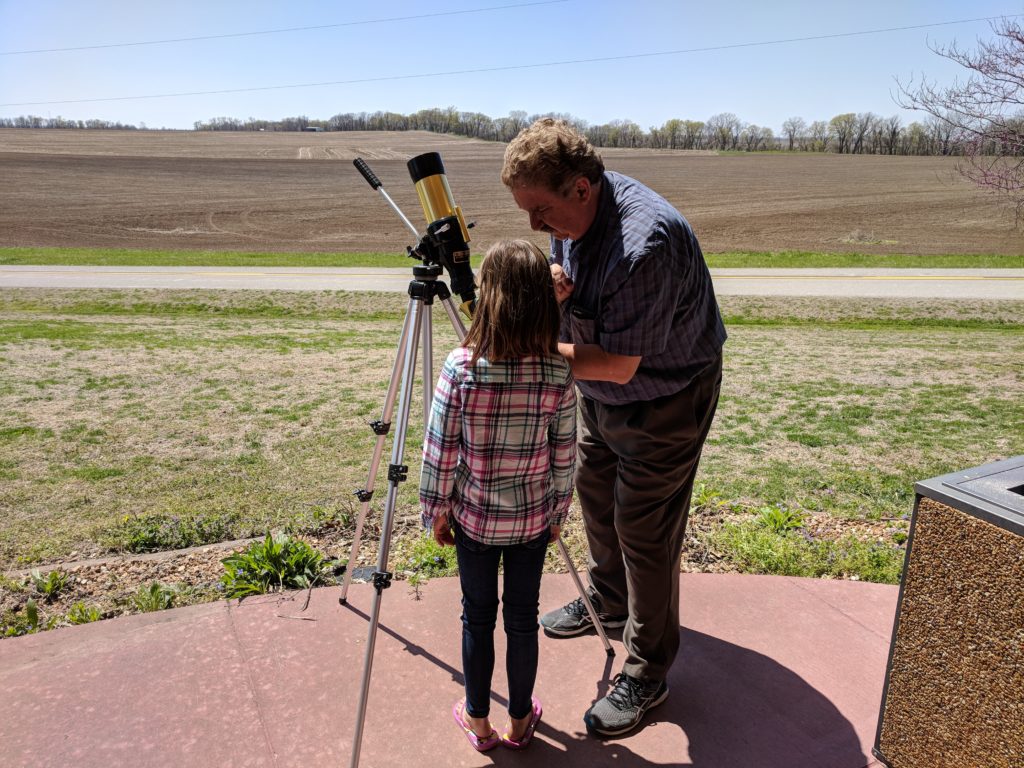 Later that afternoon, we had mostly "downtime" around the campground, again including playground time, as well as a nice open space to go fly kites.  You couldn't ask for a more perfect afternoon!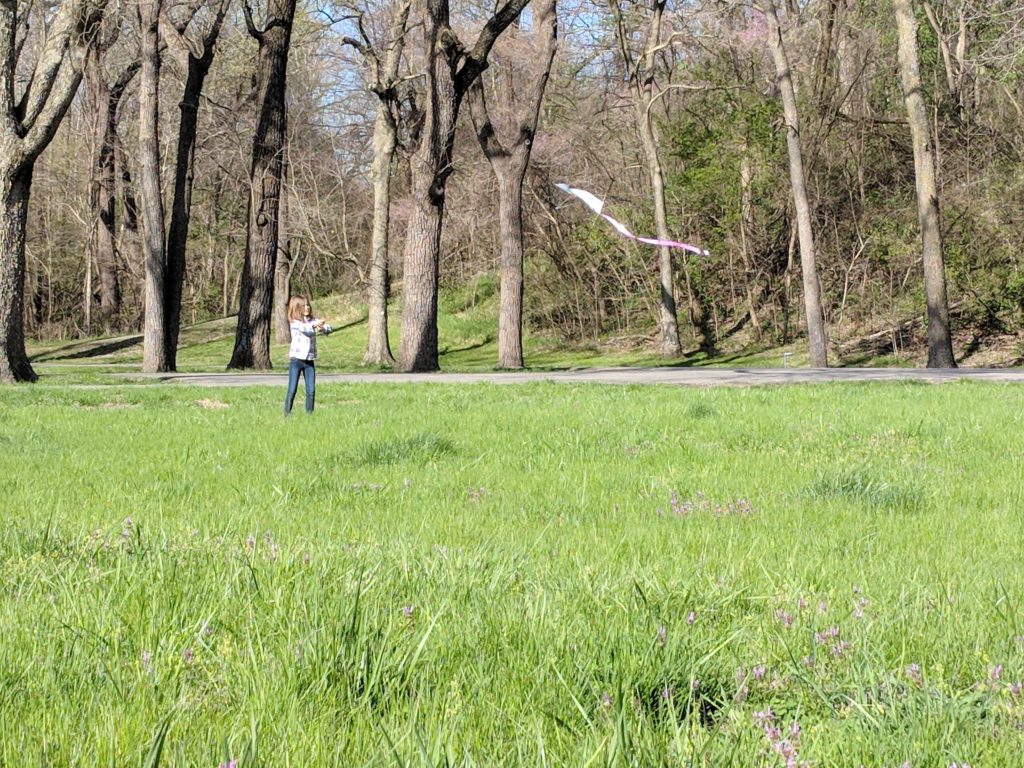 That night we had "cowboy beans," which consisted of baked beans, peppers and pork.  The kids weren't the biggest fans (shocker…), but it was nice and warm.  We stayed up a little bit later that night, but otherwise got to bed as we were nice and tired from a long day.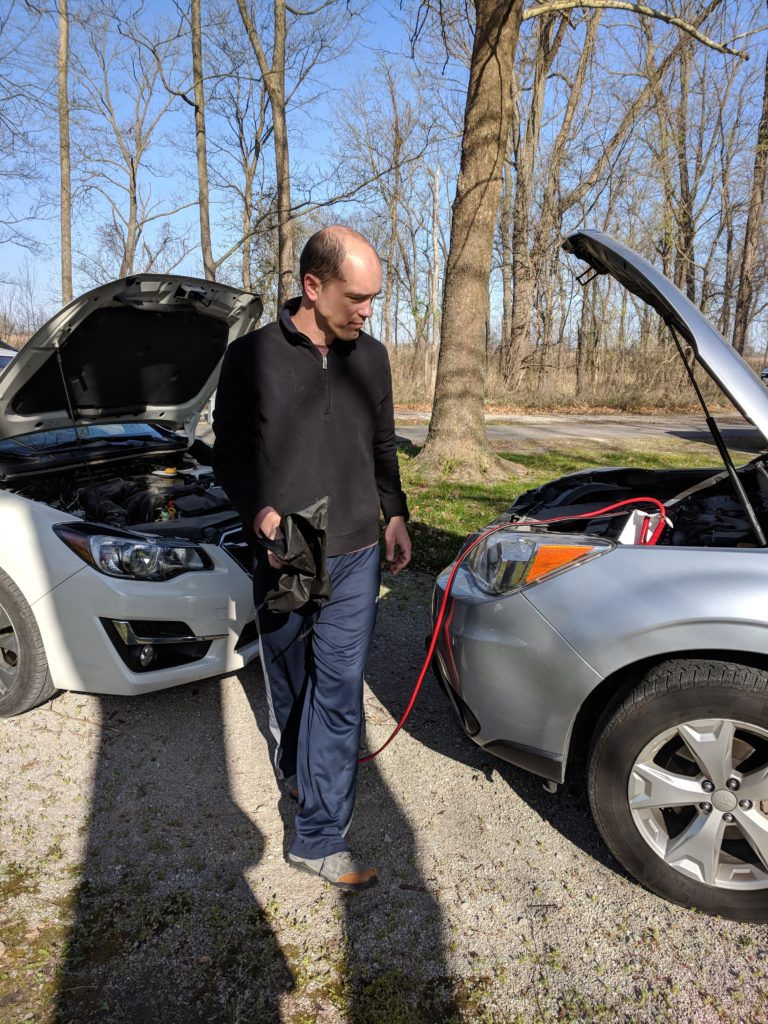 We slept better that night, though it still got down into the low-40s.  The next morning, we opted to pack up the cars and head out before breakfast, but as I'm a complete idiot, I had been using the Forester to charge my phone because I forgot the appropriate cable to charge it from the battery backup I'd brought along.
So yeah, we spent an extra hour trying to jump the car using the new jumper cables we'd bought for Brooke's car.  Guess what?  They didn't work.  So, we dug out my cables from underneath all the camping gear and they worked like a charm.
Lesson learned.
It ended up being a great weekend!  We got a few pointers for our trip to the Grand Canyon and are that much more prepared for the journey ahead.