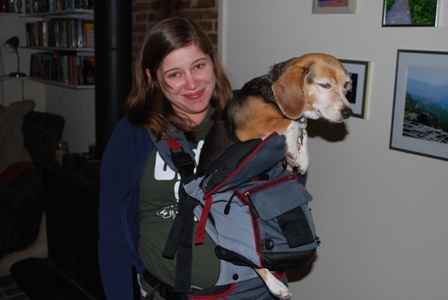 Brooke had a 20% off coupon for Big Lots burning a hole in her pocket, so we went by to look up car seats and any other baby toys we could find.  We found one car seat that looks promising, but they certainly didn't have much selection (not unexpected).
However, Brooke did find a Snugli, which she thinks I'll be wearing eventually.  Brooke's planning on using a Peanut Shell-style sling, but as I wouldn't be caught dead wearing one, this Snugli thing will have to work.
Anyway, we aren't having a baby until February, so how does one test out the new toy?  Well, we find the next best thing:  an unsuspecting beagle.
Needless to say, she didn't last  long in the Snugli.  Maybe I'll try it again using the pug down the street.