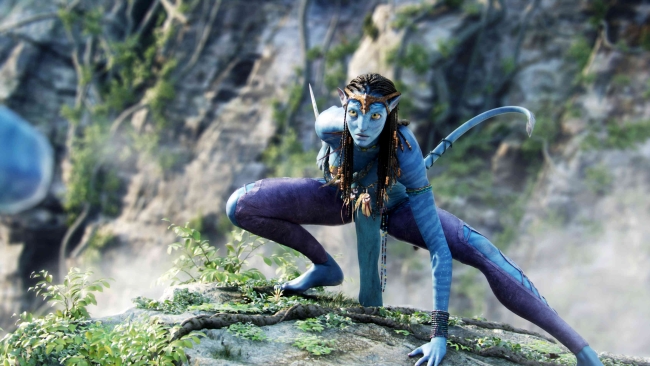 We were cleaning out DVDs a few weeks ago, largely because we don't watch as many as we used to, yet also because Meg is accumulating more, so we need the room.  Brooke pulled a few to get rid of, some of which I was fine with and others I had to put back.  For the most part, these were movies that I/we hadn't watched in a long time, so they were good choices.
But I couldn't bring myself to get rid of Avatar.  To be fair, I hadn't watched it in a long time.  Perhaps years.  But it was a nice Bluray collector's set and it didn't seem right.  Brooke and Meg were out of town this past weekend, so I took the opportunity to pop in Avatar again and see how it held up.
Avatar was released in late 2009.  At the time, I was pretty high on it, mostly from the tech perspective.  Having re-watched it, nearly five years later, I think it still holds up.  The CGI characters still look pretty good, though perhaps not as impressive as they did in theaters (though, bear in mind that I saw it in 3D, "as intended," so it could never look that good again unless I watched it in 3D).  What really stands out to me is the world of Pandora itself.  Many, if not most, of the scenes in the film take place in the jungle, all of which was done on a green screen.  Like, literally all of it.  All that stuff, in my view, holds up quite well.  The characters still integrate perfectly into the background, looking as real as if they'd filmed in the Amazon.
Only a few CGI-centric movies age this well.  Jurassic Park comes to mind.  Perhaps even The Matrix (before CGI was over-used in the sequels, I'd argue).
So in large part, I still feel that Avatar is an important film.  One of those that may not necessarily have the greatest acting of our time, or the most involved story (as evidenced by the nominees and winners from the Oscars in 2010).  But the technology developed to make the movie in the first place changed film making.  Heck, the tech used in Avatar has been integral to some of the greatest video games of the last generation.  Motion capture certainly existed before Avatar, but not to the degree James Cameron took it.  In many respects, this movie that took 15 years to make, has touched all blockbusters that have come after it.  It's a profound achievement.
That all said, it's a long movie that I won't be returning to all the time, perhaps for another few years.  I'm pretty sure I've seen The Avengers close to 10 times in the last not-even-two-years now and I wouldn't qualify it as "important" (however, it's definitely more entertaining).  Yet a lot of the tech required to make The Avengers happen in the first place was developed in order to create Avatar.  Though one can absolutely enjoy other movies more, credit should be applied where it's due.
It'll be interesting to see how James Cameron does with the next three movies in the burgeoning Avatar franchise.  Somehow, I doubt they'll be as revolutionary as the first film…
…which I intend to hold on to…