I've talked about raising chickens for eggs for quite awhile now. We finally have the room, facilities, and time for me to be able to start this enterprise, so I'm REALLY excited! My dad had a flock of chickens when I was a kid that finally met their demise to some rampant dogs when I was in middle school. I never really had much to do with the chickens, but we love to eat eggs and this seems like one more step to the self-sufficient lifestyle that I want to lead. If I can manage to keep these ladies alive and well, and we stay in the house for awhile longer, a couple of milking goats are the next step!
I bought 15 chicks from Orscheln's Farm and Home in Iowa City on March 9. One of our cars was being serviced, so I had to go pick up Andy from work in Iowa City anyway, so it seemed like a good time to go ahead and pick out my chicks. The flock is 5 Rhode Island Reds, 5 California Whites, and 5 Barred Plymouth Rocks. I'm hoping to end up with 12 laying hens when they're grown up.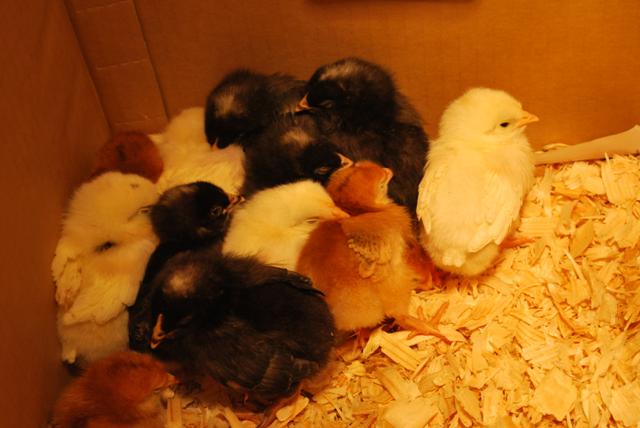 I had my spring break last week, so my goal was to use the time off (and Meg was still going to day care since we had to pay for the week whether we used it or not) to modify an outbuilding into a hen house.  My construction skills are not great and I, apparently, get frustrated really easily, so Andy helped me to finish up on Saturday.  We still need to finish the nesting boxes, roost, and the outdoor run, but the space is usable for the flock to be enclosed in a ring while they get big enough that they won't be able to escape through the holes in the foundation of the building.  Until their move outside, they were living in a box on our back porch, which made the cat and dog more than a little nervous!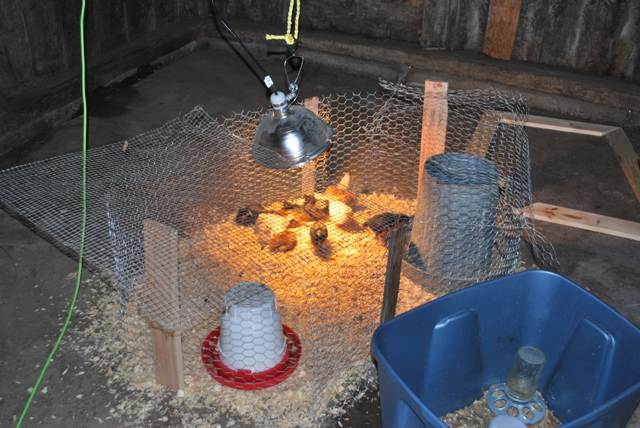 This is the building that I hodgepodged into a hen house.  I didn't want to spend a lot of money, so I tried to use mostly found wood, but I had to buy most of the wood for the door.  The building has a really cool weather vane on top and a concrete slab to the side, perfect for an outdoor run.  I hope to be able to let the hens "free range" in our yard in the afternoons this summer, but I'll need to secure the garden first, so they don't eat our veggies before we get what we need.