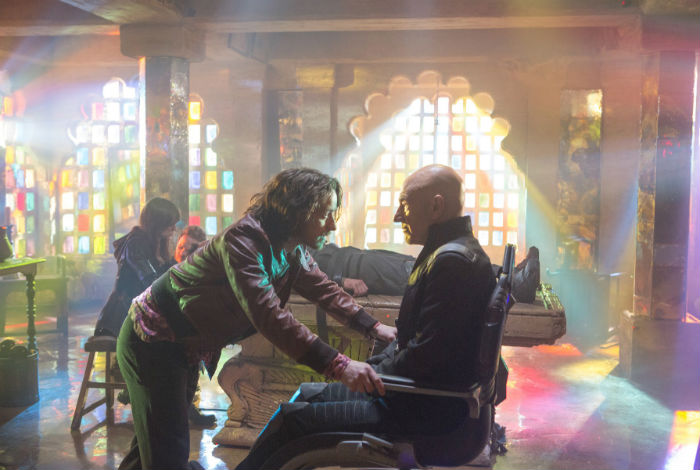 You could say the X-Men franchise has been "hit or miss."  The first and second movies were quite good (though I don't think the first one ages as well…I guess it did come out in 2000…).  The third one was a train wreck.  The spinoff, X-Men Origins: Wolverine was horrible.  The sequel, The Wolverine wasn't too bad, and the 1960s era reboot, X-Men: First Class, was alright, but I wasn't floored by it like some people were (despite having some big-name actors, including James McAvoy, Jennifer Lawrence, and Michael Fassbender).  Critically, the direction of the franchise was set with the first two movies, both directed by Bryan Singer.  He moved on after those two films and entrusted the franchise with other folks, many of which didn't take the care he did with the story and characters.
Which brings us to X-Men: Days of Future Past.  The fact that this movie exists at all is mind-boggling.  Singer returns (and even retains the music and similar opening title sequence he used in the earlier two movies), the cast from the original trilogy of movies returns (including Patrick Stewart, Ian McKellan, Halle Berry, Shawn Ashmore, Ellen Page, and more), and they merged this cast with the new "first class" from the 60s era reboot, as this film relies heavily on time travel.  With the effects and pedigree of actors (let alone sheer number of them, some without lines, even), it's a wonder they did it in a $200 million budget.
I kinda wish they'd explained how they brought back Professor X from the dead after the third movie…but whatever…
The movie begins in the future, with the original X-Men cast fighting a losing battle against the Sentinels, oversized robots designed to seek and destroy mutants and mutant sympathizers.  It's effectively a post-apocalyptic wasteland, as the Sentinels have destroyed much of civilization in their quest.  Knowing their end is near, they hatch a plan to use Kitty Pride's powers to send the consciousness of Wolverine (Hugh Jackman) back in time to a pivotal moment in history, where they believe the Sentinal threat stemmed from.  As Wolverine doesn't age like "normal" humans, it was a convenient way to have Jackman play both his older and younger self, bridging the gap between the old cast and new cast.  Wolverine does his best to "bring the band back together," 10 years after the events of X-Men: First Class (so, now 1973), in order to prevent history from continuing on the course we saw in the beginning.
Overall, I thought it was a strong showing: definitely better than many of the other X-Men outings in the last 14 years (though probably not as good as the first two, in my book).  The action sequences were somewhat infrequent, the story slowed a bit in the middle, and I definitely had to suspend my brain from thinking too hard about the consequences of time-travel (…'cause, yeah…it don't work that way…).  The acting and effects were all quite good, as expected, and I felt like all of the actors (and there were many) fit together remarkably well.  Granted, there were too many actors to keep track of, but I was in enough awe that I was seeing them all up on the same screen that I didn't care.
Compared with previous X-Men movies, or even other comic book movies, this one got pretty dark at points.  Singer did his best to make "the future" seem bleak, and he succeeded.  Some of the original cast of X-Men were killed off by Sentinels in pretty gruesome ways.  It was just pretty shocking to see it happen time and again, especially after seeing many of these characters in movies for the past 14 years.  It was a bit unsettling, which I didn't expect going in.
Finally, they ended the movie in such a way that it could serve as a good "swan song" for the original X-Men cast.  I highly doubt they're going to let Hugh Jackman leave the Wolverine role (as, like Robert Downey, Jr and Iron Man, no one else can play that character), but many of the other actors are showing their age.  I love Patrick Stewart and Ian McKellen, but they're getting older and can't pull these characters off for much longer.  This movie takes place "in the future," so it was an easy sell this time.  I'm glad the next film, X-Men: Apocalypse, will focus on the younger cast, though I'll miss the original crew.
Let's put it this way: I'm glad that this is the last time I see Patrick Stewart as Charles Xavier, rather than X-Men 3.