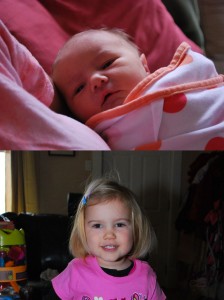 Meg is three today!  I thought it would be nice to put up the "comparison shot" just to show how much she's grown in the past 3 years.  I can still see some similarities in the two pictures (especially in the nose), but she's pretty different now!
We had some folks over for a birthday party on Saturday – a "Fiesta"-themed party this year.  Meg is very much into Dora The Explorer, so while we didn't want to specifically theme it around that bastion of consumerism, we still wanted to make it center on her interests.  That, and a "fiesta" theme work swell for margaritas and Mexican beer.
Brooke devised an activity for the kids to do (we had 3 other toddlers in the house that day, among 20 people in total…full house!!) where the kids went "on an adventure" (like in a Dora episode…), going "over the lake," then "up the 'stair' mountain," then "dancing," then finally to a box of "treasure" including maracas and stickers for them to all play with.  We also had sombreros available for the kids (and certain adults).
Overall, a good party for her, methinks!  She doesn't quite get that her birthday party wasn't on her actual birthday yet, but we'll get there.  Spreading it all out over a few days is likely a bit confusing, as she probably thought she was now three on Saturday instead of today.  Oh well.
Still, Meg got a dollhouse this morning, opened a few more small things, and we'll go out to Uncle Bill's Pancakes tonight for dinner – that girl loves her pancakes.

Happy birthday, Margaret Jean!