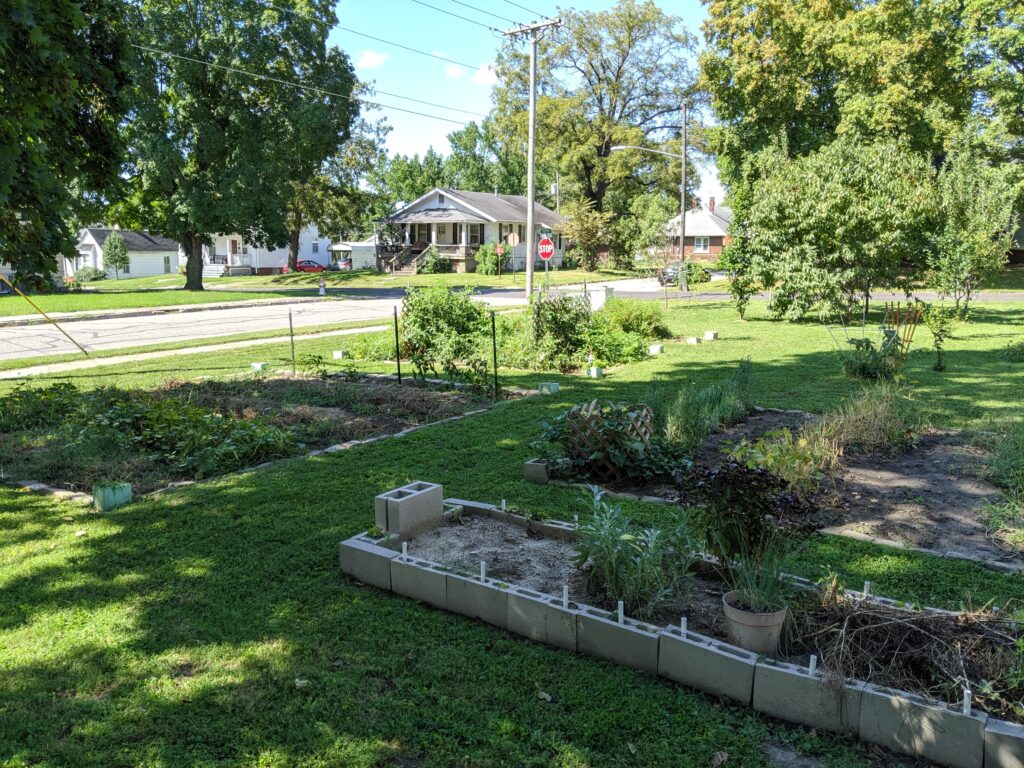 The garden is definitely on the downswing. We're still harvesting some stuff, but as you can see above, much of the greenery has died off.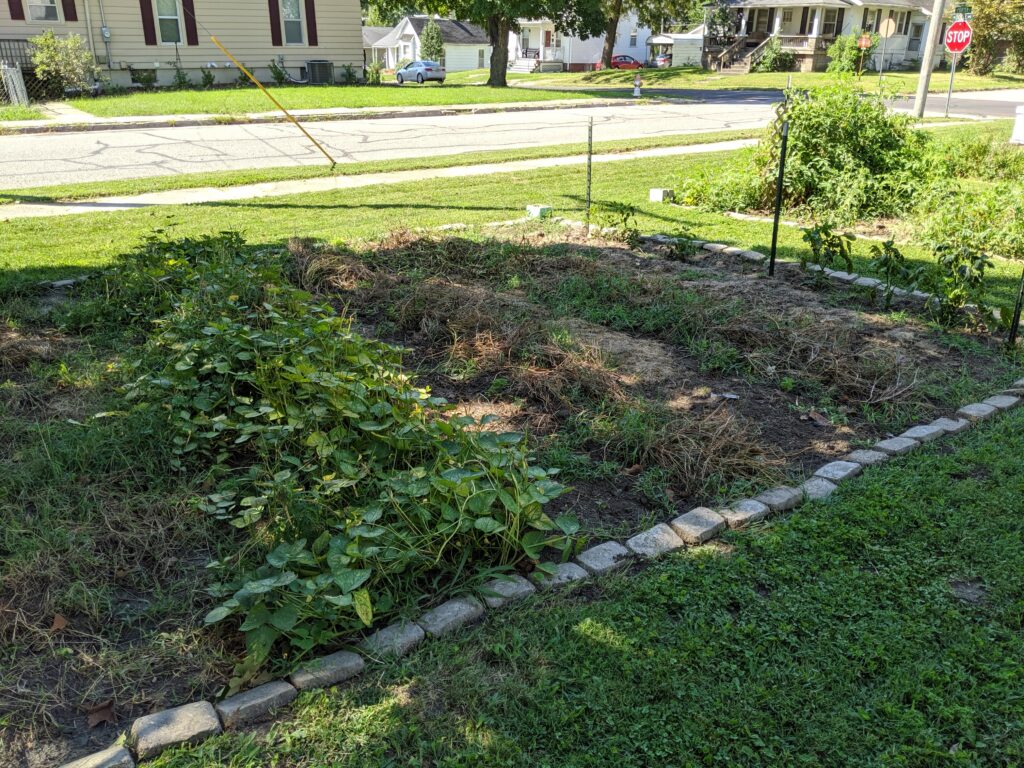 The green beans are way dead. We ended up with something like 30 pints of green beans in the end, with quite a few being eaten fresh or given away. I think Brooke had four rows planted and, as usual, they performed admirably.
The soup beans are still going strong, though Brooke has picked quite a few pods thus far. Shockingly, with the heat and limited rain we've had recently, there are still some flowers on the plants, so maybe we'll end up with another small wave.
The pepper plants are still bad, but we have had a few small hot peppers showing up. They're just now turning red, so we'll pull those relatively soon.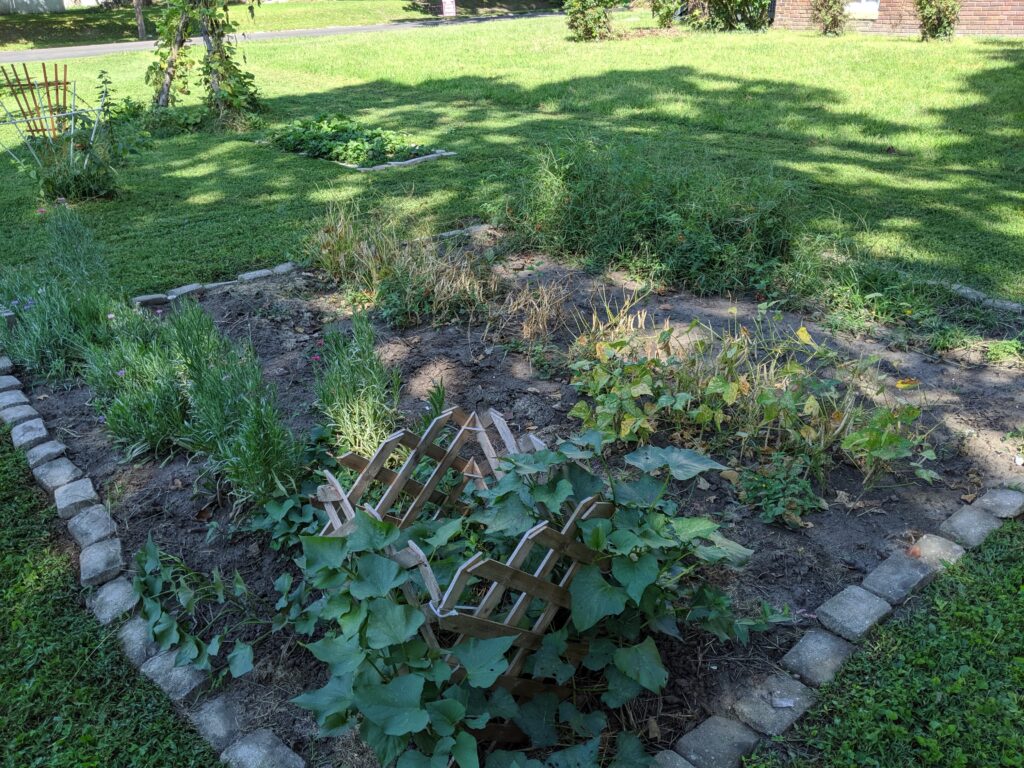 The cucumbers have also mostly given up the ghost, but much like the soup beans, we've got 3 or 4 new ones slowly growing, so maybe we'll end up with a few more? Probably not.
The sweet potatoes are looking good, though we won't pull those until November. Brooke's flowers that she planted have done surprisingly well, too!
The real story is the black beans, which like the green beans before them, have also been solid. Meg and Calvin did some good work shelling soup, black, and rattlesnake beans this past weekend and we've definitely got a few meals out of them.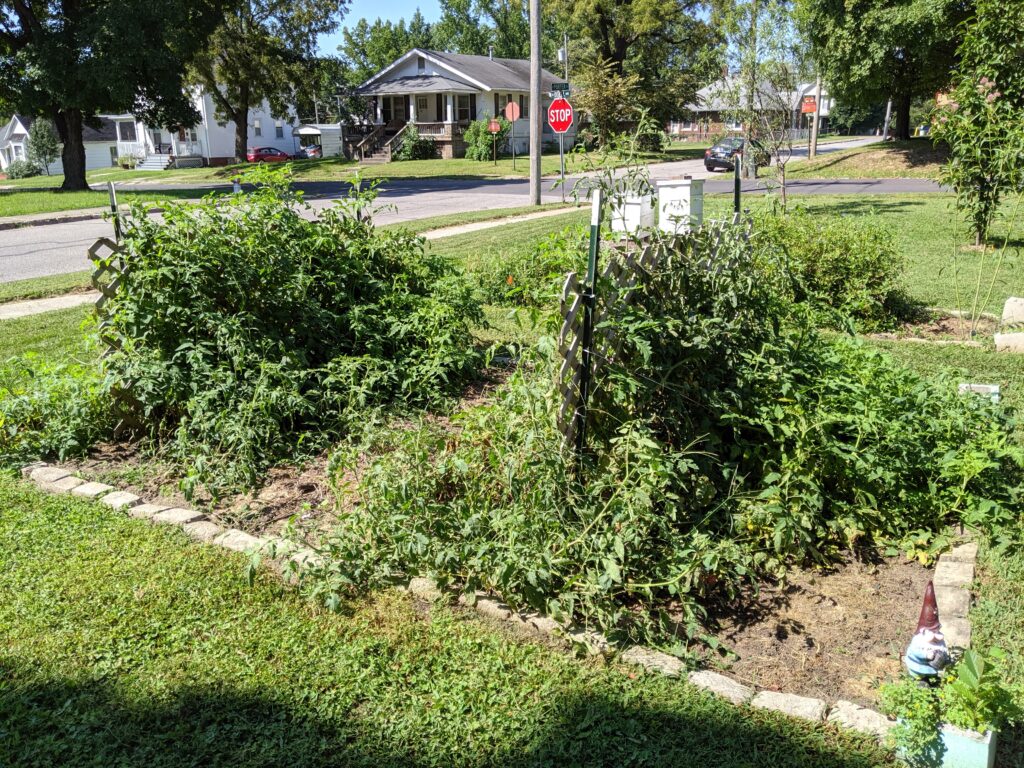 The tomatoes are doing their thing, of course. They're mostly small, but we're getting quite a few. Only a few "slicers" so far this year, sadly, so BLTs haven't been common. Brooke hasn't canned any yet, preferring to amass a metric ton in the freezer first before she focuses on them (also, waiting for the heat to die down before using the gas stove for hours on end…).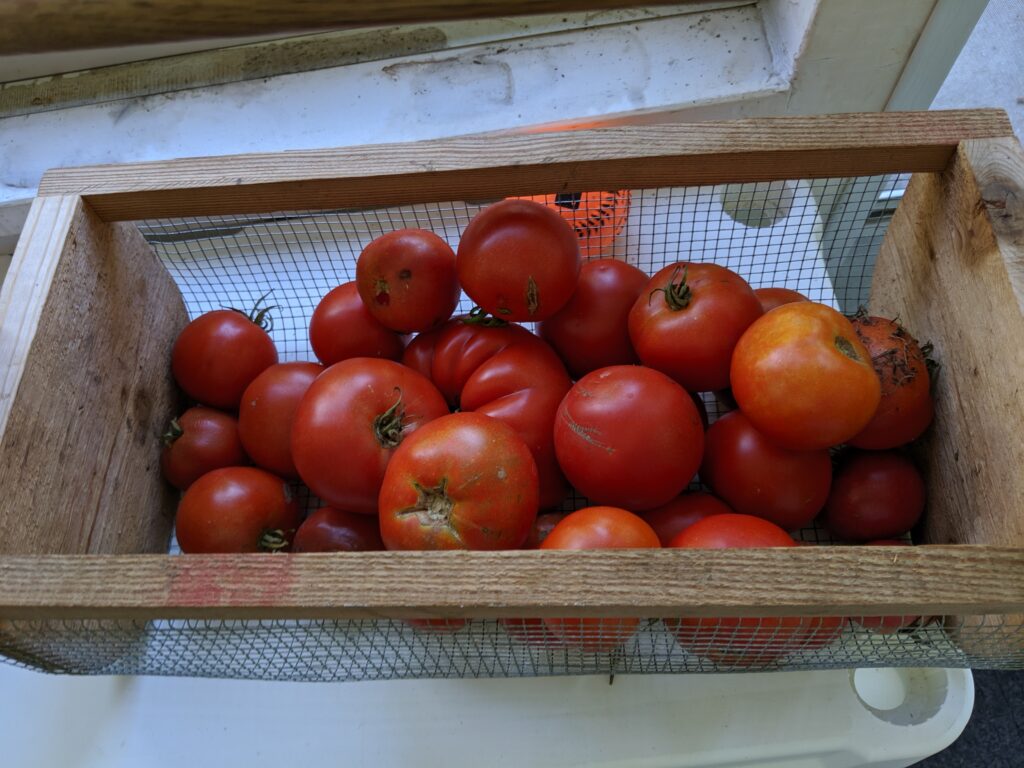 So yeah, the jury's still out on the tomato crop for the year. We've got a lot: just dunno how much, exactly.
I mentioned the rattlesnake beans, pictured in the back, and again, they're doing they're thing…and slowing down. The strawberries have done a great job establishing themselves! We're probably going to expand the patch out next year a bit, so I've started making more concrete bricks to spread out toward where the blackberries and raspberries.
Speaking of which, the raspberries are producing again, though the blackberries still haven't done a ton. We'll probably pull those at the end of the season, but haven't decided on the raspberries yet.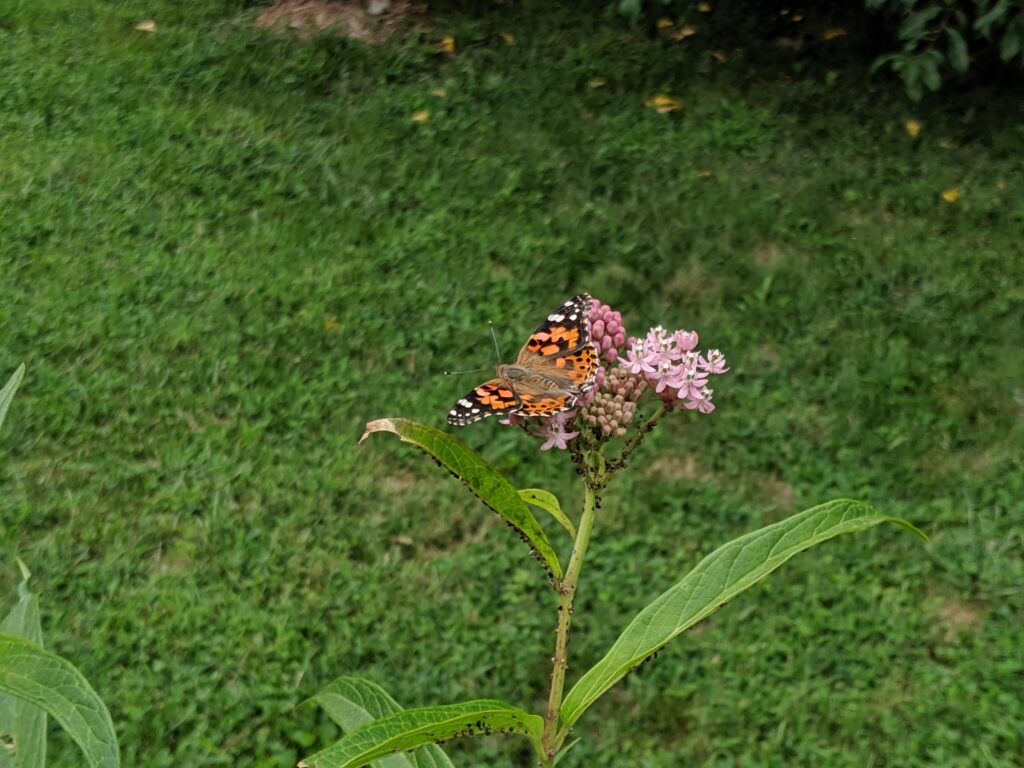 Our milkweed is blooming and has had a few visitors! It's over 5 ft tall, which is quite a bit bigger than we were expecting. The other milkweed plant was encroached on by the mint, so it remains to be seen how well it'll come back next year. It kinda bent off toward the south and grew, er, sideways…so yeah…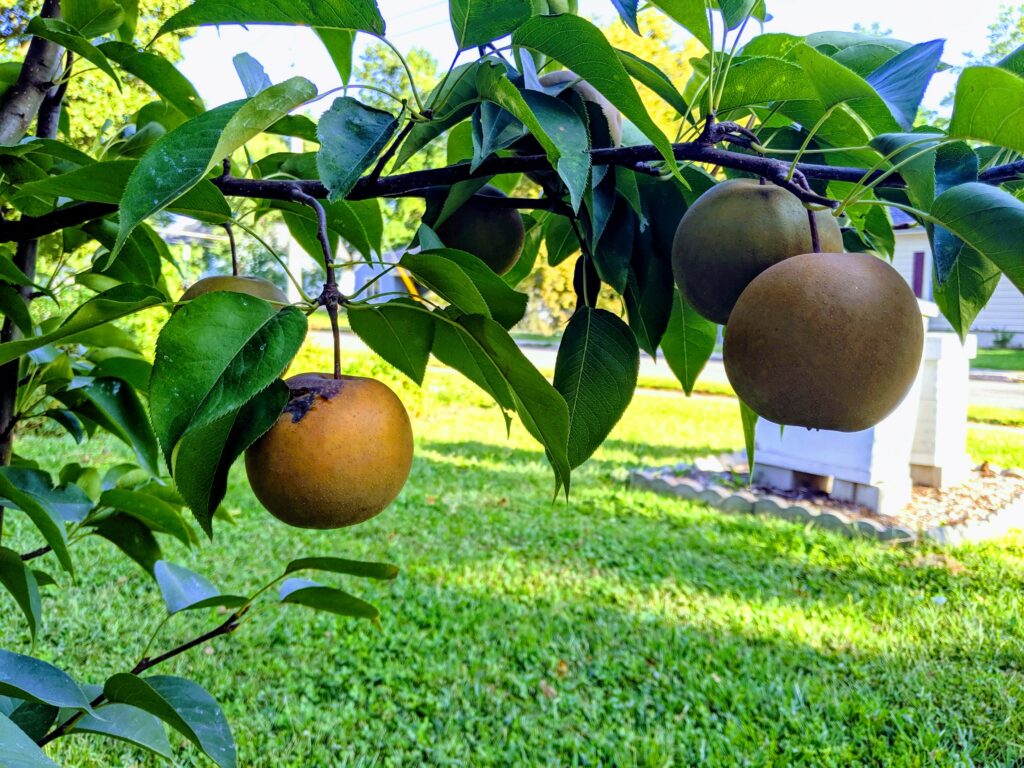 The pears are still looking great! But they're also still rather solid, so we don't think they're ripe yet… But, they're also bruising a bit on some of the fruit, where they're too soft on one side, yet hard on the other. Long story short, no idea if they're ready yet, but hopefully we'll cut into one soon…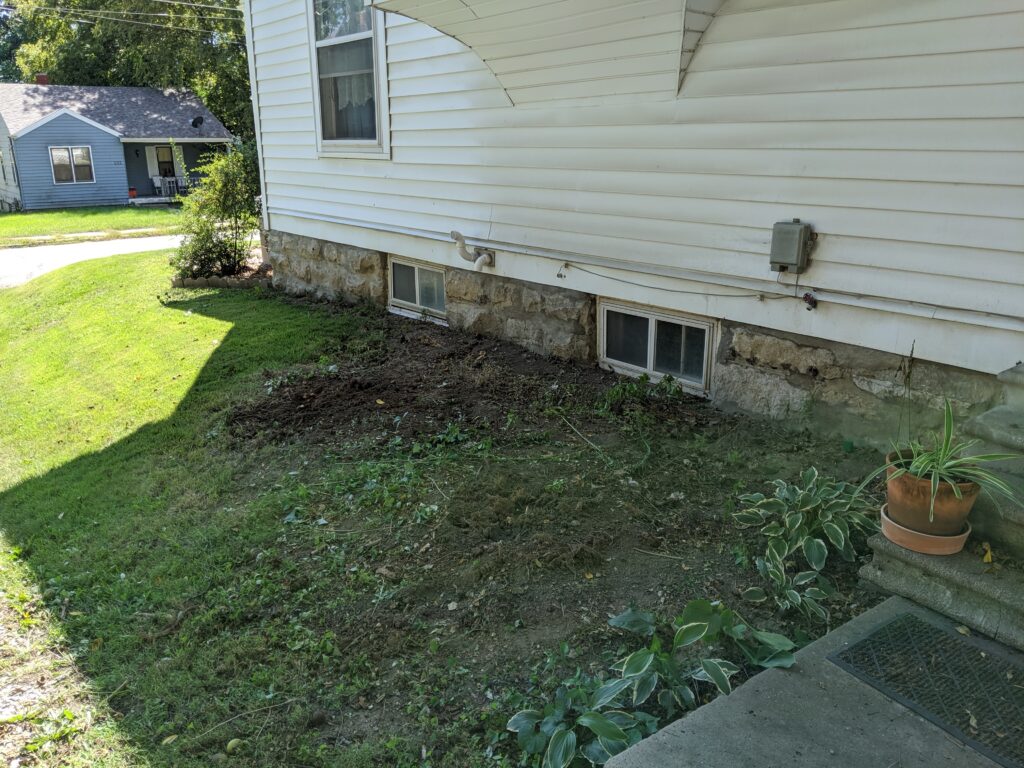 And last but not least, Brooke tore out the bushes on the east side of the house! They were ugly and had to go. Brooke was surprised at how easy it was to remove the roots. We've got our landscaping project for next summer lined up, I guess!
That's it for now! Probably one more update for 2019 coming, once we know how much tomato sauce we're ending up with.