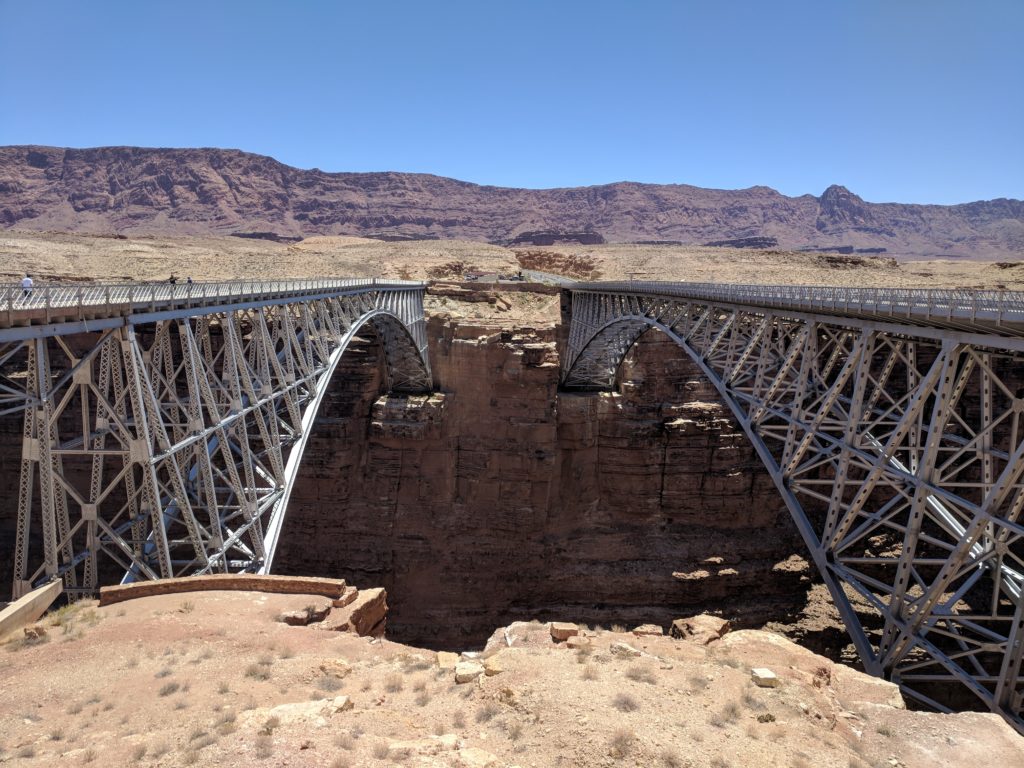 We left the North Rim on my birthday, a Wednesday this year.  The kids played with the neighbor kids for awhile as Brooke and I packed things up, which was mostly uneventful.  We weren't necessarily in a rush to get out of there by a certain time, but getting on the road close to 10:00 am was certainly a goal.  We planned to get to Albuquerque, NM that first night and had to contend with at least one time change on the way there.  We also had a few stops planned on our way out, neither of which did we expect would take a ton of time.
The first stop was Marble Canyon, specifically the Navajo Bridge over the Colorado River.  In the picture above, the one on the left is a walking bridge, while the one on the right allows passage of Highway 89A across the river.  We thought the site would involve a cultural center for the Navajo reservation that we were passing through, but there wasn't much there aside from bathrooms and a gift shop.  It was nice to get out of the car after a few hours on the road, though.
Another reason to stop there was because California condors have been sighted in Marble Canyon in the past, but we didn't get to see any.  Had to try, I suppose!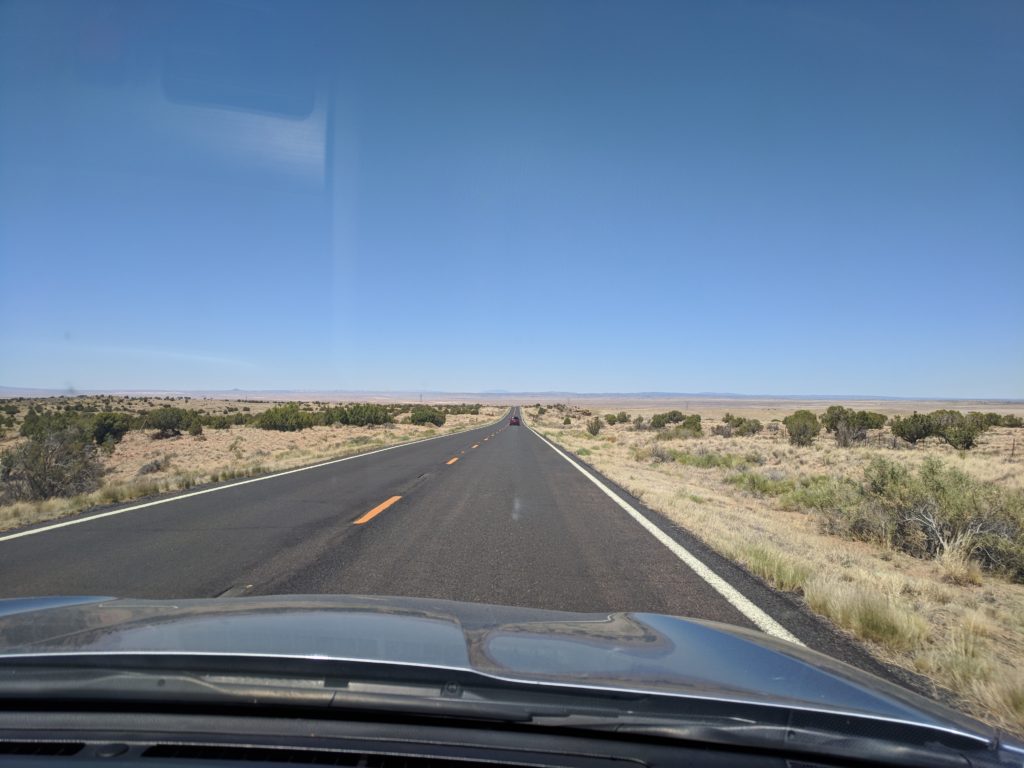 Most of the drive that day was very much like you see above.  Flat and desert, with the assorted mesa showing up occasionally.  The kids did fine during this entire portion, as they were ready to be back in consistent air conditioning with their electronic devices, but for the grown-ups in the car, there wasn't a whole lot to look at.  I-40 made life easier once we got there (we had quite a few state highways to hit before making it south to I-40), but until that point, it was desolate reservation land and not very many places to stop.  Thankfully, we didn't really have to.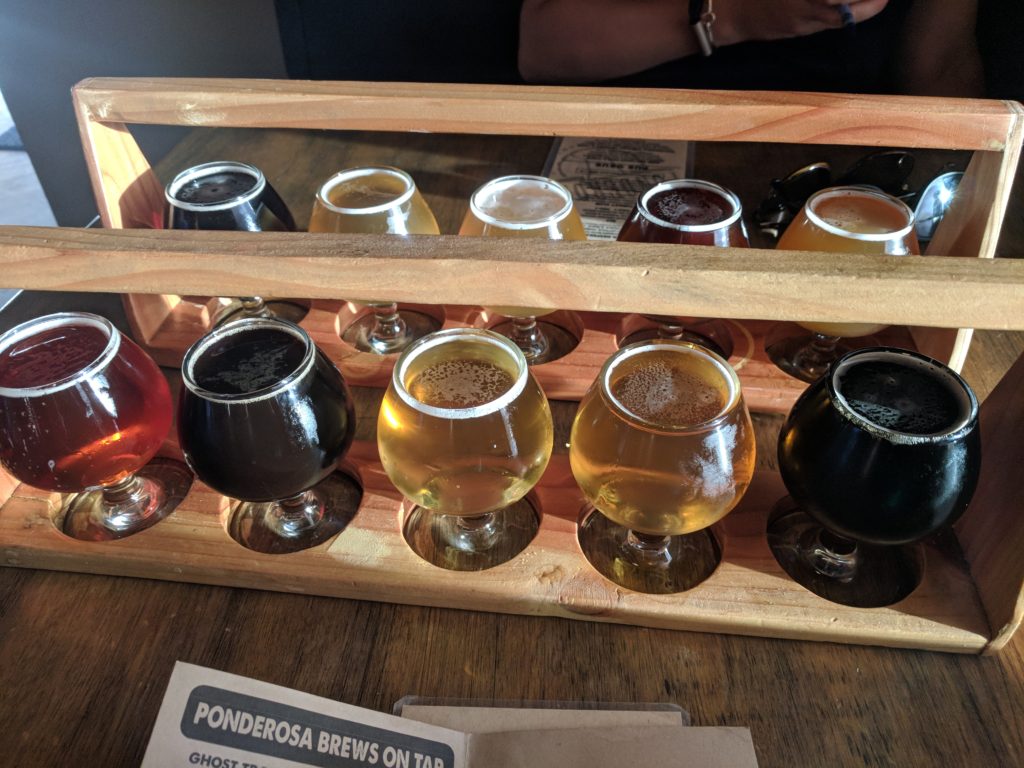 We made it into Albuquerque after 7:00 that night and before heading to our hotel, we stopped at Ponderosa Brewing Company.  It was apparently "open mic night," which wasn't our first choice, but it was late and we were hungry and I wanted beer, so we suffered through it (it really wasn't that bad and reminded me that I should play more mandolin…).  The food and the beer were great, but the service left much to be desired.  The receipt was a bit confusing, but we think they knocked some money off when we bought a growler to take back to the hotel, so that was a plus.
Now, back in Part I, I neglected to mention that we stopped at Rockslide Brewing Company in Grand Junction, CO for lunch before heading into Utah (because it's 2018 and they don't have real beer in Utah…).  That place was great.  The food was great, service was great, and It was tough to pick a beer for the growler that night.
After a restful night in the hotel in Albuquerque where the kids stayed up until around 10:00 pm (time change is difficult, people…), we hit the road.  It was going to be another long one, but this time, we were stopping at the Jack Sisemore Traveland RV Museum in Amarillo, TX.  Which seems like a thing you should visit when you're in Amarillo, TX.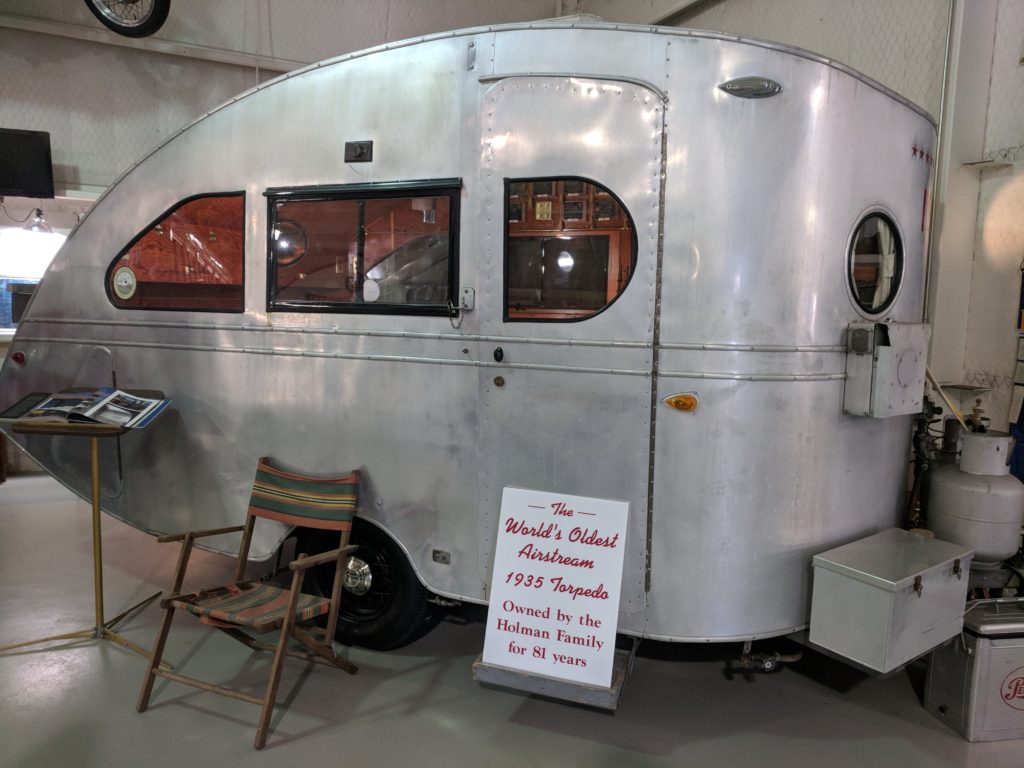 It was actually pretty neat!  It's actually a retail RV lot, but if you go in and ask at the front desk, they'll lead you back through all the new ones to a warehouse with all the old ones, each with a sign that gives you some idea what's there.  We ended up seeing a 1970s-era pop-up camper that looked quite a bit like the ones Brooke and I grew up with, and that particular camper was donated by a couple from Columbia, MO!  Small world.
Meg and Calvin really liked seeing campers, as we're used to staying in tents when we travel like this.  We had to explain to them that the towing capacity on our Subarus isn't really up to snuff to carry many of these campers, so they're slowly devising a way to get us to upgrade.  I don't expect they'll win this battle…
From Amarillo, it was another 4 hours on I-40 until we got to Oklahoma City.  This time, we were going to get there a bit early, hopefully giving us time for a nice dinner and some swimming at the pool at the hotel we got.  This time, I picked the restaurant: something that would satisfy the four different mouths in the car without leading to arguments about what kind of food we were getting that night.  I found this place called Shorty Smalls that looked like they had a wide swath of options that we hadn't had on the trip so far, including seafood.  When we got there, they advertised an all-you-can-eat catfish deal and $0.99 Coors Lights.  Sounds great, right?
Well, we sat there for 15 minutes and no waiter visited us.  The kids finished their placemat activities and were already ancy and various servers had walked past us with nary a word.
So we left and went to Waffle House next to our hotel.  It wasn't my first choice, but the other three in the car were happy, so it was fine.  I left them a review on Google Reviews and got a response the next day apologizing and saying they'd pass the experience on to management.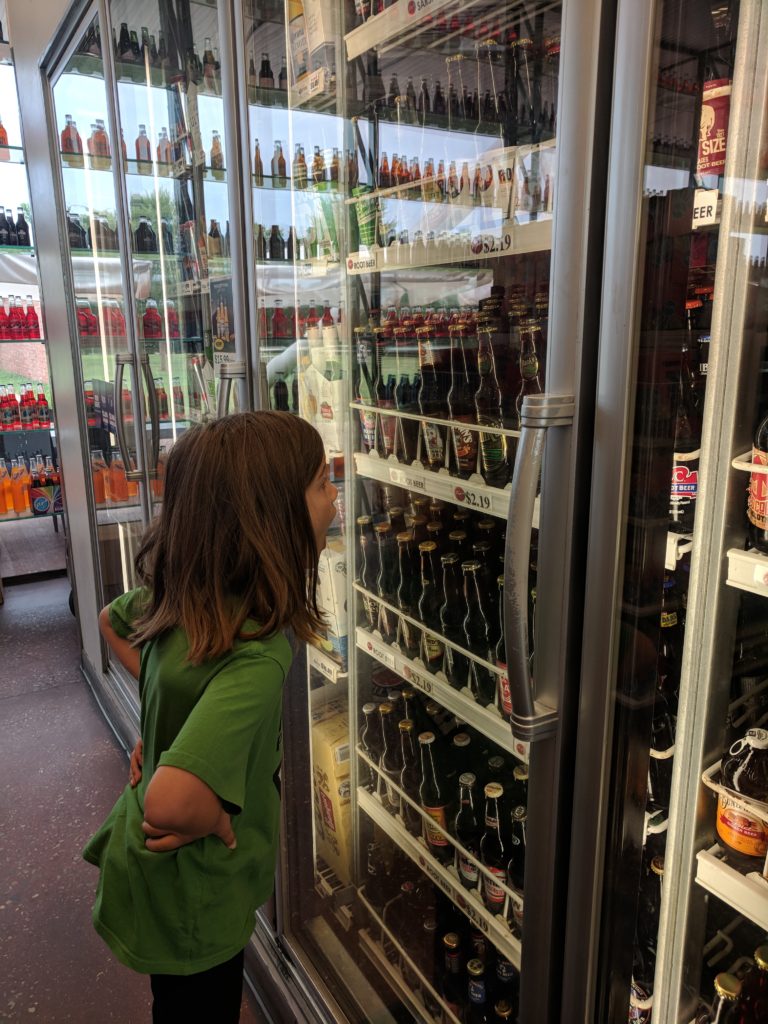 After another late night staying up (with some swimming this time), we hit the road one last time for the home stretch.  This time, we were going to stop about 30 minutes outside of Oklahoma City at Pops Soda Ranch, which advertises over 600 different types of soda and other Route 66 kitsch to buy.  Meg had never seen this many root beer varieties, so she was pretty excited.  We didn't stay long (and didn't get gas there, as the price was at least $0.40/gal higher than everywhere else around there), but grabbed a six pack of different glass bottled sodas.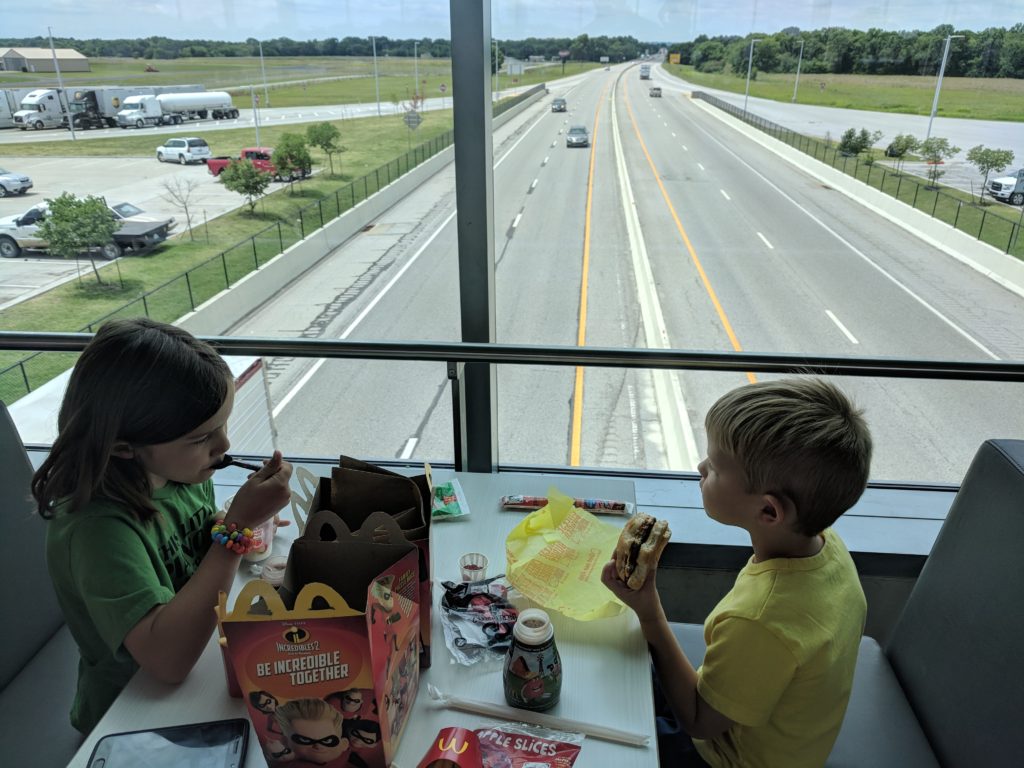 After another few hours, we stopped at the former "World's Largest McDonald's" in Vinita, OK, which runs across I-40.  It's a McDonald's, so not much to report on that, but it was neat for the kids to have a Happy Meal while cars passed under them.
A note on Oklahoma vs Kansas driving.  Kansas is a terrible, desolate state that is horrible to cross.  A definite black hole between Missouri and Colorado.  And while they do have toll roads, they certainly don't milk you for everything you're worth like Oklahoma does.  I think we spent maybe $2.50 to go on I-70 in Kansas, but it was $9.00 to get from Oklahoma City back to Missouri.  Ridiculous.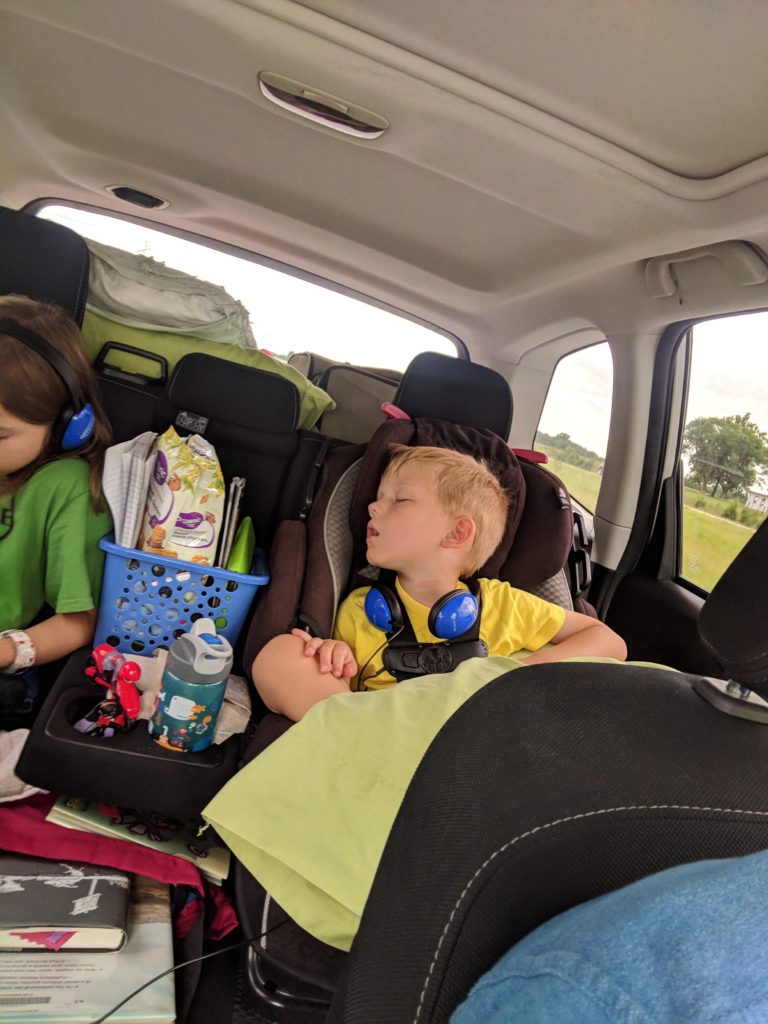 Finally, the heavens opened up and we crossed back into good ol' Missouri.  Granted, it was relatively far south, so we still had hours to go, but it was certainly more familiar territory as we got closer to Highway 65.
We had a fun trip!  ~2800 miles covered and 25.6 mpg average overall.  Gas prices really weren't all that different than they were in Missouri, though we ran into some more expensive stations due to their isolation from other populations.  We'd still like to hit the South Rim eventually, but may do that on a "Tour of the Southwest" trip when we hit Mesa Verde, Arches, and other locales in a few years.  We've got other plans for the next few years, though, so that'll have to wait!