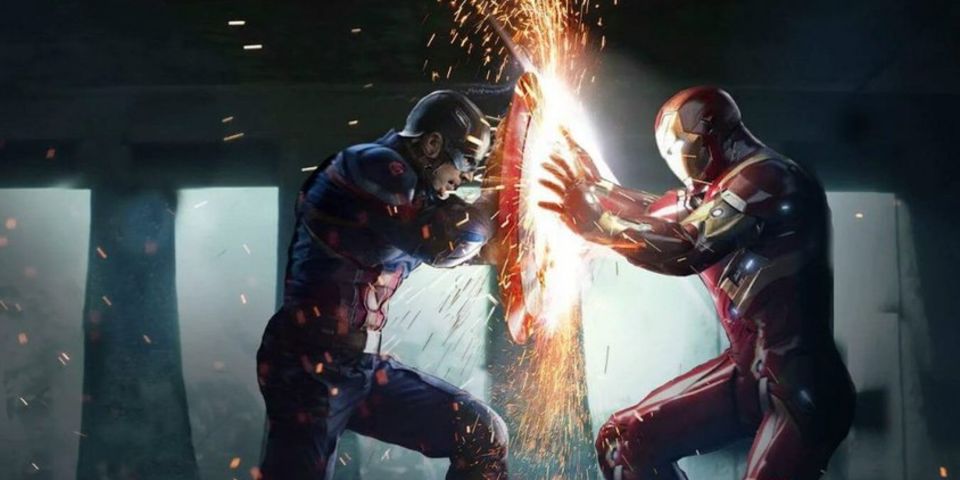 As has become painfully obvious by now, I'm a fan of the Marvel Cinematic Universe, and though Captain America himself isn't my favorite, his third "solo" outing, Captain America: Civil War was an exciting prospect for me because it still brings in lots of characters from across multiple movie franchises.  To be honest, I built this movie up in my head quite a bit because there have been reviews floating around for, literally, at least a month now.  It's been hyped up to such a degree that it was bound to be disappointing on some level and, indeed, it was…just a little bit.
Don't get me wrong: it's still good.  Maybe even great.  But I think I liked Captain America: Winter Soldier better.  The Russo Brothers were back on-board to direct this one and while the pair of them were able to hold the movie together against all odds, I think the story, as a whole, suffered under its own weight.
Seriously.  It's easier to count who wasn't in this movie instead of who was, because nearly everyone was in it. We had Captain America, Bucky Barnes, Iron Man, War Machine, Scarlet Witch, Vision, Hawkeye, Black Widow, Ant-Man and Falcon from the previous movies…and then introduced Black Panther and Spider-Man on top of all of that.  The introduction of these two characters is intended to set up their own movies within the MCU, but they each had 15-20 minutes of screen time focused on them, which in a 2.5 hour movie means that you then only have about 2 hours to work with for all the other folks I just listed.
Taking a step back, the movie very loosely centers around the Civil War series of comics, where this time around, the United Nations and its associated world powers want to set up a hierarchical protocol where the individuals with superpowers are kept "in check," under control of the UN.  Captain America doesn't want to give up his right to do what needs to be done to stop evil-doers, while Iron Man thinks they have too much power and need to be reined in a bit.
But this is all complicated by the villain, Baron Zemo, who wants to create a series of "Winter Soldiers" a la Bucky Barnes, and ends up framing Barnes for the assassination of King T'Chaka, the father of T'Challa (who is also Black Panther).  Zemo has almost literally nothing to do with any of this, but they need a villain, so there he is.  He's incidental to the whole enterprise.  Barely essential.
I could go on, but the "Civil War" storyline is complicated enough without also trying to bring in Black Panther and then Spider-Man.  Both of these characters are awesome on screen, and in their own way, they make sense why they'd be there.  But at the same time, I'd rather see the focus stay on the rift between Tony Stark and Steve Rogers, rather than bringing in all the extraneous story in service of the MCU.
The fight scenes are really cool, there are some genuine "cheer"-type moments, and good-natured Marvel humor injected throughout.  The relationship between Bucky Barnes and Steve Rogers is in full display in contrast to the strained relationship between Rogers and Tony Stark (which began in Avengers: Age of Ultron).  But again, with all the stuff happening in the story, I feel like the plot suffered.  Captain America: Winter Soldier had a focus to it – Bucky and Steve's relationship – that was at the center of a feud between S.H.I.E.L.D. and Hydra.  Both elements tied together very nicely, and even brought in some bigger "Government Control Is Bad" themes.  But Captain America: Civil War doesn't tie these elements together nearly as deftly, in my view.
I'm absolutely glad I saw it, and I'm definitely going to buy it.  Spider-man was awesome to see on screen again, and his stand-alone movie will likely be really, really good.  These characters are all in this conflict because of multiple movies' worth of build-up, and that all makes sense.
I guess I just wanted a bit more focus out of it.