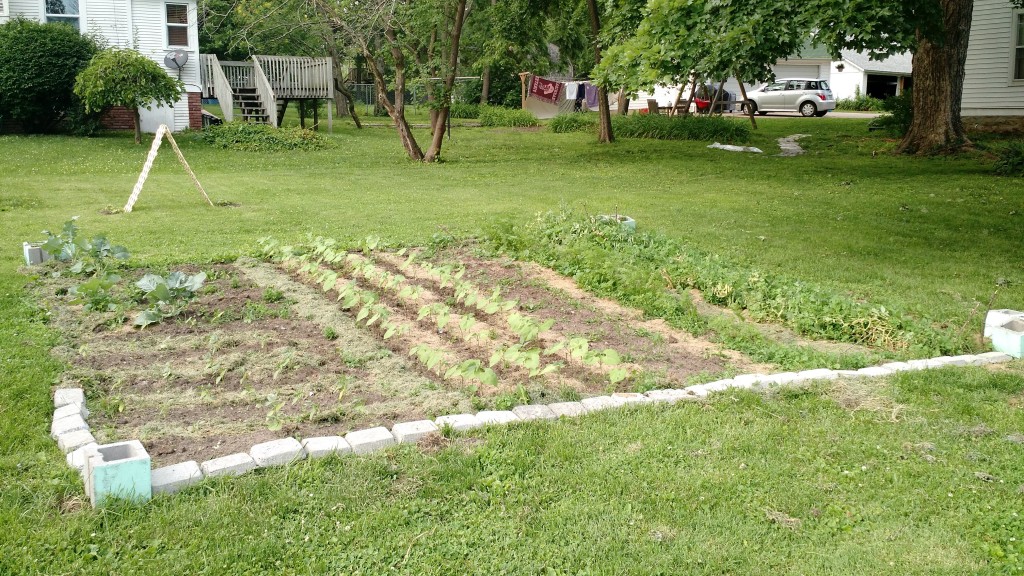 It's about time I updated everyone on how the garden's going.  Again, we bought this place with the intention of taking advantage of the extra lot next door to the house with growing some fruits and vegetables, so we've been busy trying to get that going.
I say "trying" because rain has been something of an issue.  It seems like Marshall has been getting the brunt of the weather these past few weeks, with at least 10 inches falling since the last few weeks of May.  It has slowed down this week, though, giving us a chance to get some work done and let the sun come out to do its thing.
In the picture above, you can see the green beans pretty plainly in the middle of the garden.  Soup beans are planted in the bottom-left, and broccoli is slowly making headway in the upper-left.  The far-right has peas that are ready for picking, so we've been working on those a bit recently.  Our neighbors have been picking theirs for at least a week now, but they planted a bit earlier than we did.  The carrots have been in the ground about as long as the peas, though they still seem a bit on the small side.
Brooke also planted a row of corn where the radishes used to be.  I say "used to" because I pulled them up a few weeks ago.  Of all the things we planted, they were the only ones to really adhere to their prescribed schedule.  They grew pretty well, incidentally, as we got quite a few big ones!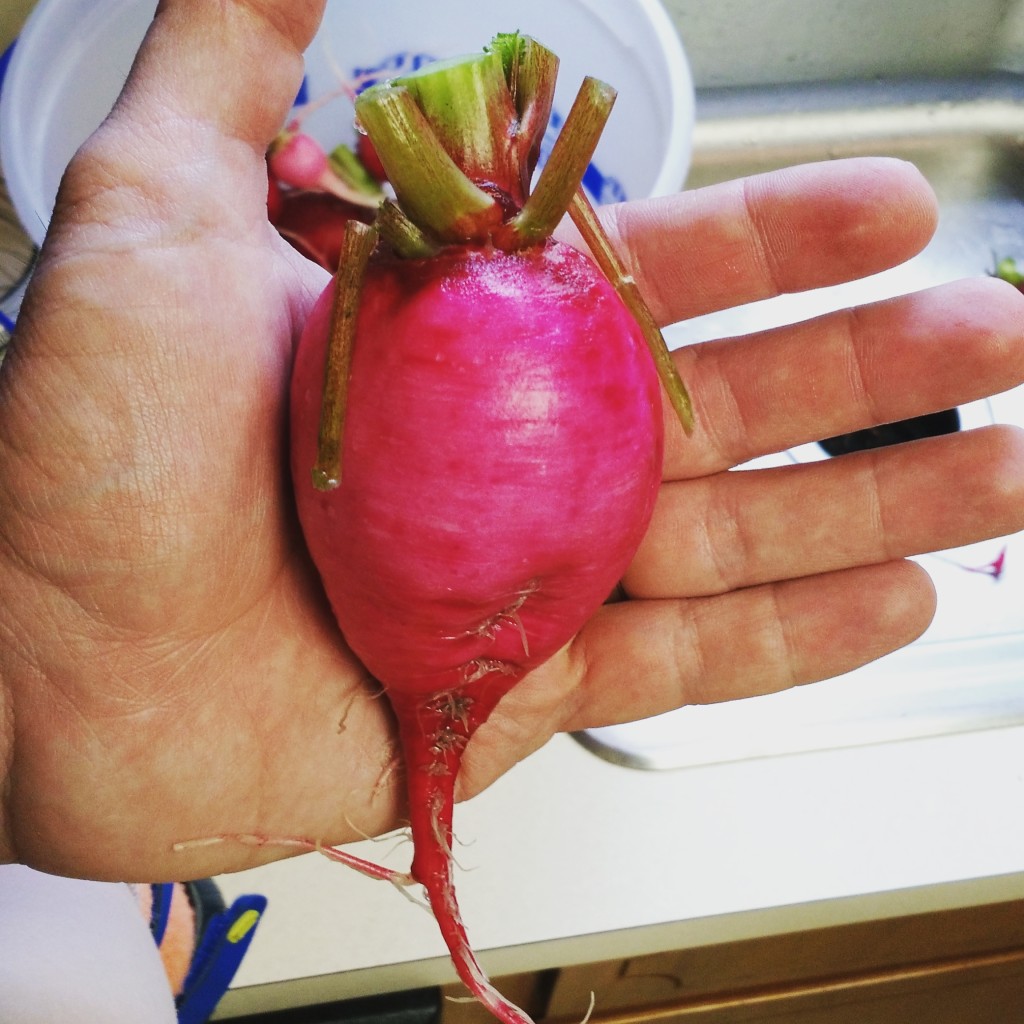 That row of radishes turned out pretty well, so I suspect we'll move forward with them again next year, even though I'm about the only one in the house that likes them (Brooke will eat them on salads…Calvin just spits them out…).
In the background of the picture far above, you'll also see an A-frame of sorts, where Brooke planted some sweet potatoes.  We haven't grown any since we were up in Iowa, when Meg would eat them constantly.  We'll see if we're as successful this time around – at least we can make fries out of them…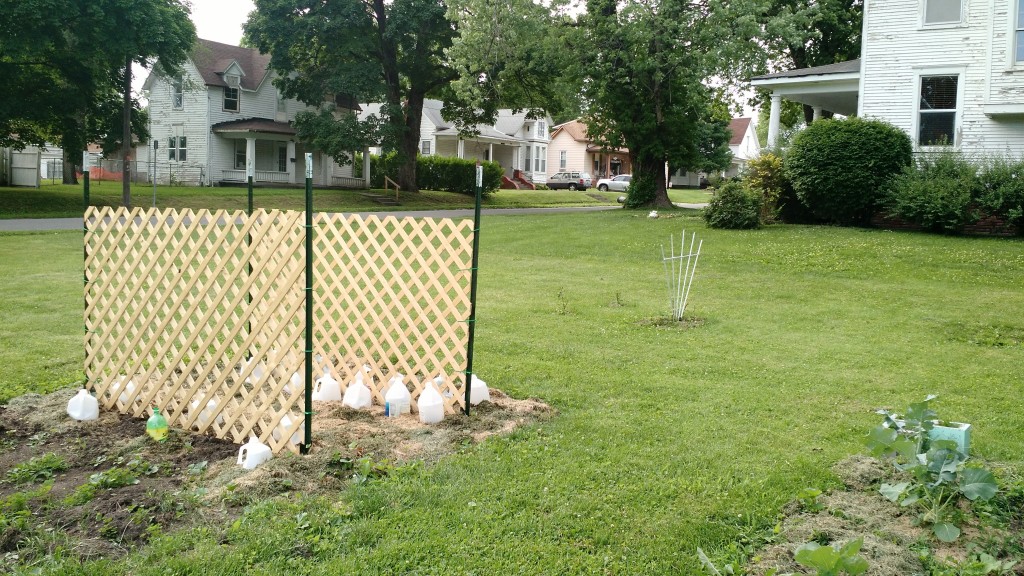 The other garden plot still needs some work, obviously.  Lots of weeds growing in the front portion (where we still plan on putting some green pepper plants), but we finally got the tomatoes in a few weeks ago.  Brooke started most of them as seeds on our back porch using a heating pad she picked up from Menard's, but I supplemented with some plants I stole from students at school (they left for summer…oh well…).  A few of those plants disappeared, likely due to rabbits or squirrels, so we're having to keep them protected with milk jugs until they get big enough.
You'll also notice the trellises we set up between rows of tomatoes.  We've tried a few different methods in the past and have never been all that happy with any of them.  Before we moved last year, we tried making A-frames using PVC pipes.  That generally worked, but a). the middle of the A-frame got zero sun, so no tomatoes grew, and b). we moved before we actually got to harvest anything…grrrr…  This time, we spaced things out a bit more and made two trellises, so we'll see how they hold up.
In the background, you'll also see a white frame where blackberries and raspberries have been planted.  I suspect we've got critters munching on them as well, but we weren't expecting to get much out of those plants this year, anyway.  At least their root systems will get established this summer.
Lastly, in the top picture, you'll notice we're slowly surrounding the garden(s) with concrete blocks.  We've been making them using disposable aluminum cooking trays with leftover Quickrete from our other long-term project: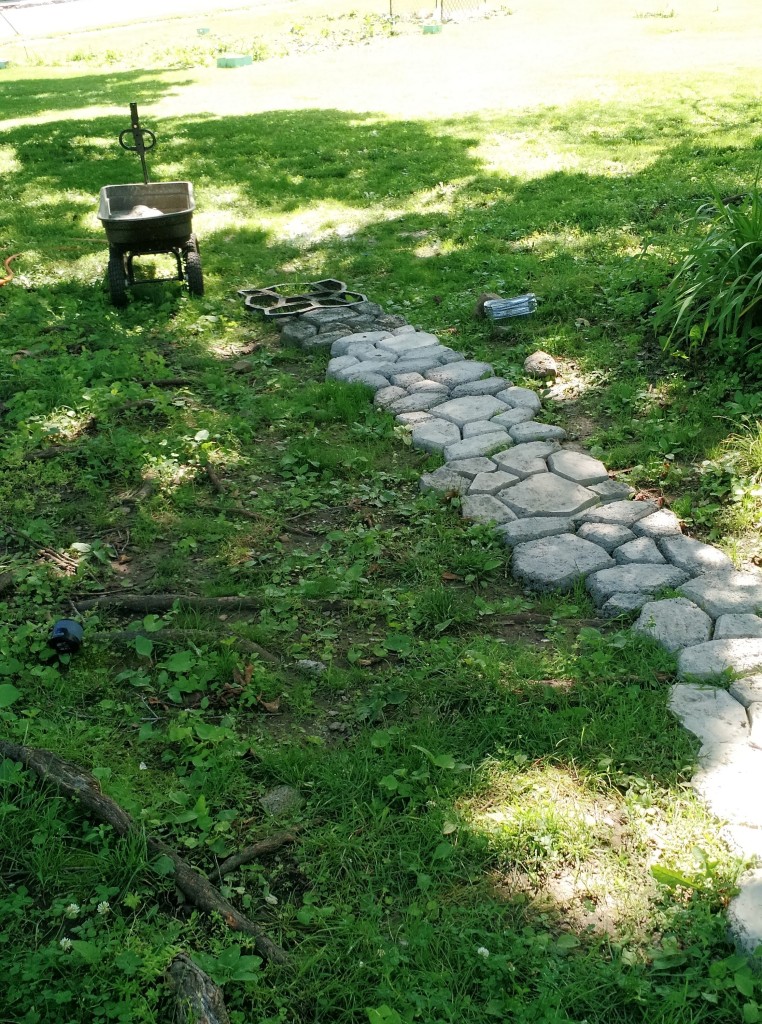 We debated how to handle this, exactly, and went back and forth between stone pavers, a mulch path, and everything in between.  The problem with that spot is that grass doesn't really grow there, tree roots are all over the place, and it gets really muddy after it rains at all.  So, we needed some kind of pathway to get from our backyard down to the side area where the garden is.
Brooke eventually found a concrete form that lets you make individual stones from Quickrete, so we've been slowly grabbing (heavy) bags and making stones when we get a chance (or when the sun comes out…which, again, has been an issue…).  It's coming along alright, though the pathway isn't exactly "uniform" in how each stone looks.  Once we're done, we'll spread some sand around it and try to fill in some of the gaps to make it look like they've been there awhile, or so they're more integrated into the dirt.
I think that's plenty for now!  I'm just hoping those tomatoes get going soon…getting hungry…