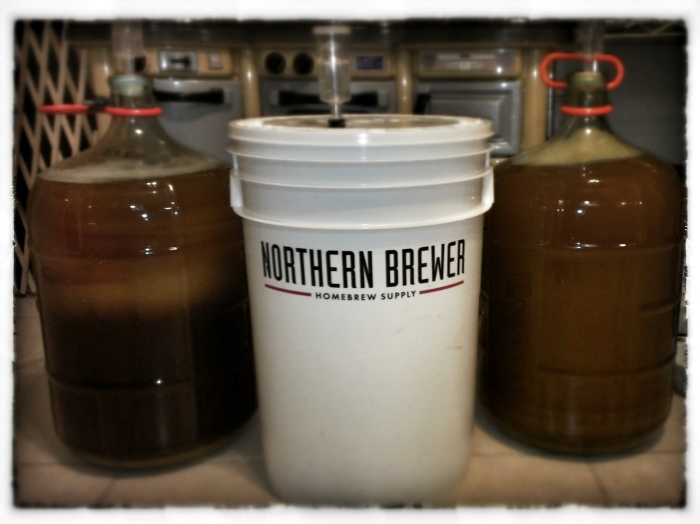 As I mentioned last week, I wanted to make some beer for Kristen's wedding, coming up in July.  In order to ensure the beer gets produced on time and that I can taste it and produce more if the first batch doesn't work out, then a February start-date for fermentation is required.  Thus, with the help of Mom, Dad and Brooke, I set out this past Saturday to make lots o' beer.
This is the first time I tried making this much in one day.  I've tried two batches in a day before, but one of them didn't work out as well (for various reasons, not just because I tried two in a day).  Regardless, having all the additional help available to keep Meg occupied and watch the boiling kettle while I take care of cleaning the carboys, etc. is very useful and makes the day go more smoothly.
Overall, the day went pretty well.  I used up one of the propane tanks I had, so Dad and I went and got another one mid-way through the day.  Once the sun poked out, the weather got a bit more comfortable, though it was only out for a few hours before going behind the house, leaving us in the shade with a brisk, chilly wind.  Dad assembled Brooke's new IKEA 3-drawer dresser while we brewed the second batch later in the afternoon, so we kept ourselves busy.
After we went out to dinner, I went ahead and took care of the third brew on my own (though Brooke held the funnel for me so I could pour the wort into the second carboy).  All in all, it ended up taking about 11 hrs, start to finish, to do the three beers with a few hour+ long breaks in there.  I'd guess that the act of brewing, itself, "only" took 6-7 hrs.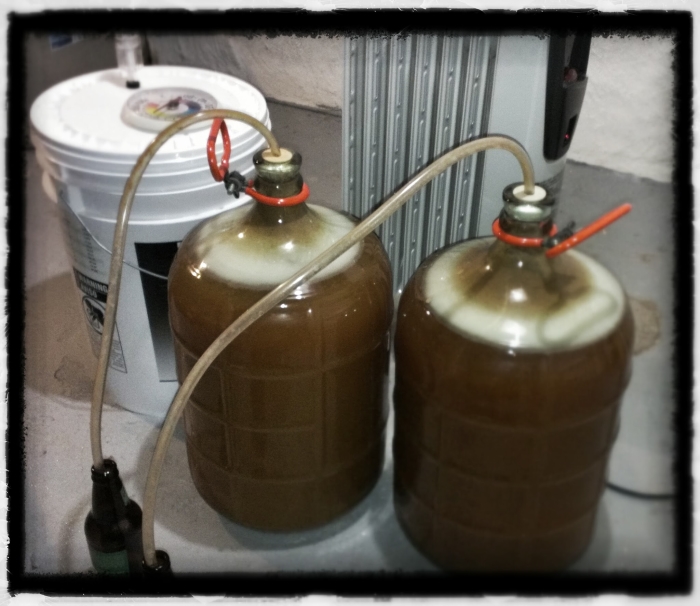 The beers were all pretty close to the target original gravity, so I expect the final alcohol content to arrive at a similar level to the first time I did these beers.  Fermentation began relatively quickly and, as you can see in the image above, the limited headspace in the carboys required the addition of blow-off tubing to allow the foam to escape.  I can probably remove the tubes in a few days.
In about two weeks, I'll dry-hop the Chinook IPA, which was put in the bucket specifically so dry-hopping wouldn't be a huge pain.  It can be done in the carboys, but getting the hops in there, wrapped in cheesecloth, and then removed again from the carboy can be difficult.  After another week (so, 3 weeks total in the fermentation vessels), I'll bottle the beer.
Now that will be time-consuming.  I'll probably queue up something to watch on the Kindle while I take care of that.
Regardless, the day was a success!  Hopefully the flavor reflects that in a few months. 🙂