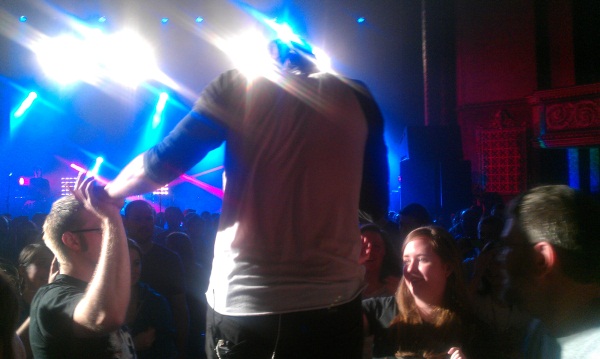 Awhile back, Kristen mentioned that Switchfoot was returning to Springfield, MO and that the venue they were going to play in was pretty sweet, the Gillioz Theater.  Thus, Brooke and I made the arrangements for Meg to hang out with her grandparents this weekend, for Rachel to stay at our house with Edie and Sam (and the chickens), and for Brooke and I alone (gasp!) to go to Springfield for the weekend.
We made it out of St. Louis early enough to stop at Heinrichshaus for a picnic lunch and a bottle of Chardonelle before continuing on to Springfield.  As always, we had a great time tasting Heinrich's wares (he's an old German guy who wears American-ized lederhosen, if you can imagine such a thing) and enjoyed the warm, summery afternoon outside.  After a few more hours, we hit Springfield and went directly to the concert.  The Gillioz Theater is definitely cool, as it's an ornate, old-style theater with good acoustics and comfy seats.  I can't say I was a huge fan of all the kids I had to sit with, though, as this event was apparently quite popular with the "Christian Youth" crowd (i.e. I think we enjoyed Switchfoot's show at The Pageant more, if only because there was a cordoned off area for "Over 21" with a full bar…).  I was unimpressed with Switchfoot's opener, The Rocket Summer, who acted like a pretentious emo wannabe.
Switchfoot, on the other hand, was amazing as always.  Their set was pretty similar to the one we saw two years ago, mostly songs off the last 3-4 albums and only two songs from their first few, but the new stuff is good so I can't complain all that much.  As with the last time around, their lead-singer, Jon Foreman, ventured out into the crowd to sing with the fans.  This time, however, he ended up climbing around the theater-style seats, holding hands as he made his way to the center of the theater.  He happened to make this trip inward directly in front of us, to the point that Brooke, Kristen and her friend, Maggie, all held Foreman's hand as he passed by.  I was trying to get pictures of this, of course, as these things usually go.  Regardless, while we got pretty close two years ago, we were close enough to touch the man this time around.
We joke that, at our next concert, the subsequent logical step is for Jon Foreman to sit on Brooke's lap and sing.  😛
Regardless, we spent the next day hitting up quite a few different things, including a visit to The Home Brewery in Ozark, MO (I picked up a bottle washing attachment for our basement sink…should make life easier!), a trip down to Copper Run Distillery (where we tasted vodka, "moonshine," whiskey and rum…the latter of which, we grabbed a bottle of…), then later to Mother's Brewery to taste their beers and have one or two pints before heading to the Springfield Cardinals game ($6 lawn tickets…can't beat that!).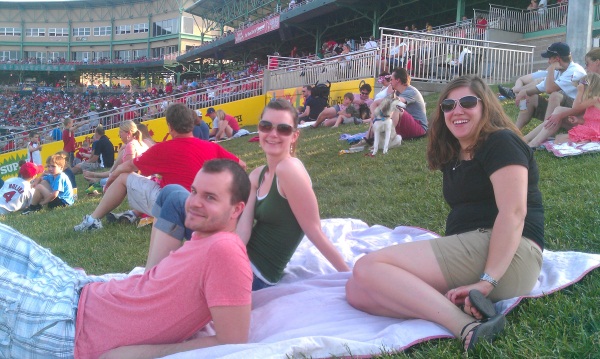 After the game, we went to a bar to hear some of Jake's co-workers play in their retro 80s cover band (who were pretty good, to be fair).  Overall, it was a busy, yet good day!
In the end, while we obviously missed Meg, it was nice for the two of us to get out of St. Louis for a weekend, not to be tied down by a dog to take out or a toddler to watch…er…"toddle."  We had a great time and will probably have to do it again, once Jake and Kristen finish filling their pool…  🙂