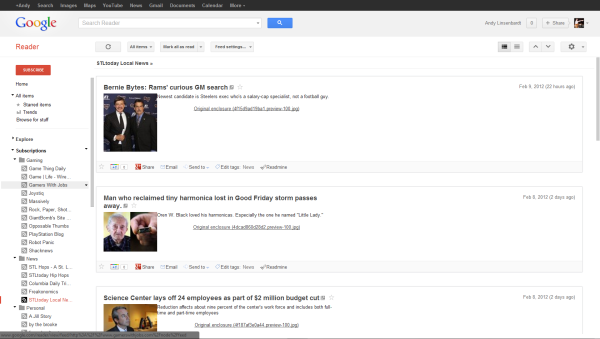 I'm fully aware that many believe I sit in front of a computer all day and stare at Facebook, posting articles and comments and shirking actual "work."  In actuality, I'd argue that I only have "http://www.facebook.com" on my web browser 15 min per day, on average.  On a "busy" day, when I'm in the middle of a conversation/argument, more like 30 min.
How is this possible, you ask?  Why, it's the power of RSS readers!
"RSS" stands for "Really Simple Syndication," and the idea for it goes back as far as 1995, though the first official version was integrated into Netscape in 1999.  In many ways, RSS is what gives blogs the power they have today: the ability for the headline and a brief description of an article or posting to be "aggregated" for easy digestion by the reader.
Note: This very blog has and has always had an RSS function.  That's what the cute little orange icon in the upper-right corner that pops up does.
So here's the secret:  I've got 45 different blogs aggregated into my Google Reader account.  This means that my phone, my Kindle Fire, my Chrome web browser, and the Reader website itself all tie into a single repository that collects new posts from each of these sites almost immediately after a new article is posted.  I'll wake up in the morning and have 75+ articles to wade through, to see if there's anything interesting, and I can do this easily on my phone, swiping with my finger to scroll through the list.
Any articles I think may be interesting (based on the title, usually, but sometimes after checking the description), I will press to add a "Star," effectively bookmarking it for later reading.  Then, I can just click "Mark All Read" and my list is cleared out, ready for re-population.  Once I sit down at a computer somewhere, or with the tablet, I will then skim the articles I found to be most interesting.  And sometimes, I'll share relevant articles on Google+ or Facebook.
So, quite rapidly, I can skim through articles from the St. Louis Post-Dispatch or the Columbia Daily Tribune without ever having to actually visit the sites themselves, thus avoiding ads and thus saving me time.
And furthermore, you can share articles to Facebook or Google+ directly from most of these blogs, as this is how they generate their traffic.  You just have to click "Share" from the page in question, or from within Google Reader.  A little box shows up and you write what you want to post, along with the link.  And you never have to actually go to Facebook.com to do this.
So yeah, a little "protip:" use an RSS reader of some kind to make your blog reading more efficient.  You are more than capable of getting information throughout the day without getting bogged down in Facebook or on blogs themselves.  You can, in fact, get work done and still provide useful information on subjects that interest you.  It really isn't that hard…