Last year, my phone was due for an upgrade, but since Brooke was doing quite a bit more traveling around Cedar Rapids at the time, we opted to give her my upgrade so she could get a smartphone, the HTC Aria (AT&T).  Thus far, she's been quite happy with this little Android device, a phone that browses the internet, includes a GPS, and accesses WiFi in a variety of venues, obviating the need for a ridiculously expensive data plan (the stock 200 MB/mo plan is $15 extra per month).  Also, this phone was a shade smaller than the iPhone and was much more comfortable for her to deal with.
March 17th, however, Brooke's phone number will be eligible for an upgrade, meaning that it's my turn to get a new phone.  Thus, as I'm known for doing (like my father, before me…), I've been researching the various possibilities that AT&T has to offer with regards to phones.  For a few years now, the plan has been to go with an iPhone, as the iOS platform has the programs I want and the games I want to play.  For these past few years, Android just hasn't been able to compete on the software front with the lead that Apple had built with their iPhone system.
This has begun to change.  Quickly.
Now, more and more programs and games are going Android at the same time they go iOS, and many of the original programs that ran on iOS have been or are being ported over to Android.  Thus, recently, I began to reconsider my plan to go with iPhone.
The other nail in the iPhone's proverbial coffin for me is the fact that the iPhone 3GS is $50 (cool!) and the iPhone 4 is $200 (less cool?).  The iPhone 5 isn't out, and technically hasn't been announced, but surely won't be available until this summer at the soonest.  So, do I get the iPhone 4 this March for $200?  Or do I wait until the iPhone 5 comes out and get it for $200?  Or once the iPhone 5 comes out, get the reduced-price iPhone 4 for $100?  Decisions, decisions, decisions!
The decision, I think, has been made for me, and it's called the HTC Inspire 4G.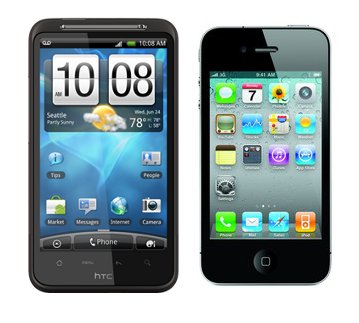 The HTC Inspire 4G just came out for AT&T early this month for $99 with a contract renewal.  It's essentially a rebranding of Sprint's Evo 4G, but doesn't have a front-facing camera or a stand on the back of the phone (for holding it up while you watch videos).  It's bigger than Brooke's Aria, although it's the same brand and is set up very similarly with the user interface and overall construction.  As the name implies, it's also the first Android-based AT&T phone to get onto their quasi-"4G" network, technical HSPA+, at least wherever the network is available.  It will be capable of taking on the true-"4G" network when it launches later this year, so this phone is pretty well future-proofed for $99.  Not bad.
Brooke and I went by the AT&T Store today in Cedar Rapids to check one out.  I was quite pleased with it, talked with the sales dude about my options with regards to this phone as well as other, comparable phones, and I decided to go ahead and get it.  I was less than 30 days from the upgrade date, so they waived it and let me upgrade early.
I've been playing with the phone for most of the day, as I typically do with new toys.  I've been pretty happy with it thus far, but will learn more about what the Android platform is capable in the coming days.  I still need to grab some kind of protective case for it, but those aren't too hard to find.  Otherwise, I think I've got the user interface set up the way I want it, but am now trying different apps to see which ones I like for doing the things I want.
Of course, one of the benefits of going Android is the fact that it syncs up quite well with your Google account, so it pulls down my mail, calendar, RSS feeds, etc. from the interwebs with the click of a button.  Very efficient and very helpful for my purposes.  One of the other neat features about this particular phone is the HTC Sense connectivity with HTC's website, allowing you to not only turn your phone from "silent" to "loud" from the website (in the event that you lose your phone), but also it can remotely wipe your phone of it's memory (in the event your phone is stolen).  Neat!
Needless to say, I'm having a good time.  🙂