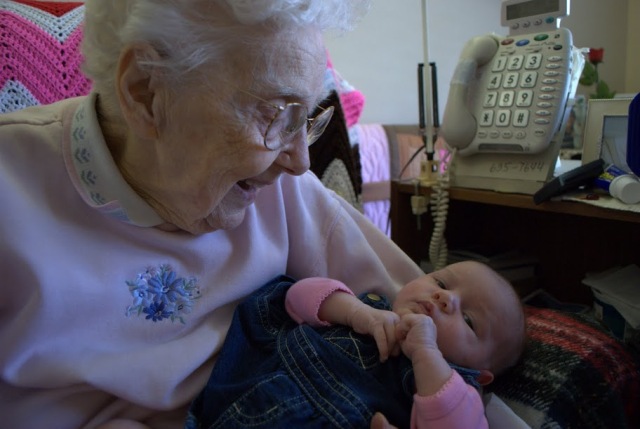 We went down to Columbia this past weekend for my Grandma's funeral. She was 95-years-old and took a fall a few weeks ago. Grandma never recovered from it and, thankfully, her pain didn't last for too long. While my Aunts and Uncles (and Mom…and the whole family, for that matter) were sad to lose her, Grandma lived a very long life and was able to do things on her own for the vast majority of it. She only moved into a nursing home last year, and even then, her heart was always strong.
I'm very happy that Meg got to meet her Great-Grandma. In my case, I actually remember my Dad's Grandparents (as they passed away in the late-1980s/early-1990s), but I never really knew my Mom's Grandmother. We do, however, have a picture of Mom's Grandmother holding me while in the nursing home when I was a baby. Similarly, Meg will probably get to know Brooke's Grandparents over the next few years (as they're all in their 70s), but will have a picture (or two) of her being held by my Grandma.
Of course, I now have someone else I can call "Grandma" (or whatever Meg decides to call my Mom, someday :-)).
On another note, some of you may have noticed the server was down over the weekend. We woke up Friday morning to find the server powered down. I tried a few things, but couldn't get it started again – it wouldn't power on at all. I was hoping it wasn't the motherboard, as replacing that would likely have me lose the blog up until my last backup (which was a few weeks ago…grrrrr…). Fortuitously, we were going to Columbia anyway, where I could take advantage of Dad's stash of components and electrical equipment, so I just took the server with us! Long story short, we tried a few things and eventually figured out it was the video card. The fan on the thing was immovable, suggesting it had overheated. After I removed it, the thing turned back on…but I had to go get a new one from Best Buy in order to actually see anything on the screen. The new card was recognized by Linux without a hitch and it's all up and running again (obviously). Now I'm investigating ways of automatically backing up the blog database…