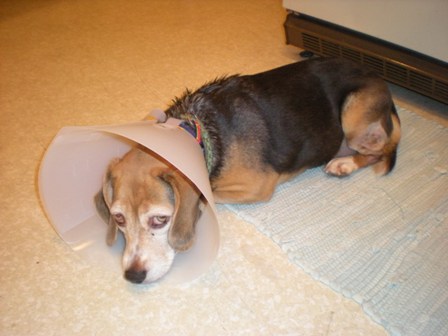 So, we'd noticed for the last few weeks that Edie has been scratching her hind legs quite a bit, to the point where last week, we started locking her out of the bedroom so we could sleep through the night.  Two years ago, around this time of the year, she had a similar problem that the vet said was due to "hot spots."  Last year, it wasn't nearly as bad, but she did scratch a little bit.  Two years ago, the vet gave us some prednisone and antibiotics and they took care of the problem kinda rapidly…but cost us $150…  Since she "got over it" last year, we decided to let it go and see what happened.
Well, we got back from Branson, after leaving Edie at Kennelwood for the weekend, and she had scratched herself down to the skin…  Brooke took her in to the vet and, again, they gave us prednisone and an antibiotic…but this time, Edie got a cone…  🙂  She'll have to wear it for 3 days non-stop, and then will have to wear it when we aren't at home for a few more days.
Anyway, hopefully she'll get better quickly, 'cause she's having issues climbing stairs (again) and I'm all about having her back to normal.  Either way, the puppy dog sure is cute with a cone around her head.