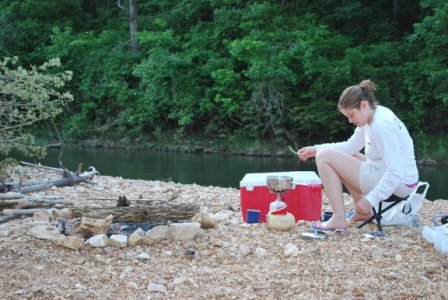 Brooke and I went on a float trip over the last few days… Sunday to Tuesday seemed like the best time to do it, as we'd be avoiding all the crowds, and it wouldn't be in the dead center of the week, which would just disrupt all kinds of other things. We went down to Jacks Fork River, near Eminence, MO for a 24 mi, 2-night trip.
The weather was absolutely perfect. The high was supposed to be in the upper-80s or lower-90s, but it never felt like it really got above 85 F while we were along the river. The sun was out the whole time, it never rained, there was a distinct lack of humidity, and there were no mosquitoes (although, there were plenty of other flies and gnats…not as big a deal, though). I've posted some pictures up on Picasa if you want to check them out.
We got started Sunday afternoon and floated for a few hours, then spent most of the day floating on Monday (around 9:00 am to 4:00 pm). On Tuesday morning, it only took us 45 min or so to get to our final destination, indicating that we'd gone 23 of the 24 miles by the end of Monday…which pretty much rocked. It got us back to St. Louis in plenty of time for Brooke to grab a shower and relax before heading off to teach her ACT Prep class.
As you'll see in the photos, we had quite a bit of fun taking pictures with the new camera. (Note: we were quite careful with it…taking it along in a water-proof container and only taking it out on shore…never whilst in the boat) We got to toy with the shutter and aperture settings, which are things I'd never really experimented with. The ability to take as many pictures as you want on an 8 GB card makes it easy to toy around and see what you can make happen. We took, like, 50 pictures of the fire on Monday night while messing around with those settings (I've only posted a few of those, though).
Anyway, it was an excellent trip and we'll probably need to do it again! Likely not this year, but who knows…